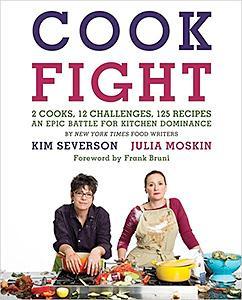 New York Times food writers Julia Moskin and Kim Severson were friends, working wives and, obviously, food-obsessed. One day former New York Times restaurant critic Frank Bruni challenged them to a duel--not with him, but with each other--and turned them into kitchen rivals. The dare: with just $50 each, they were to prepare a full meal for six, which he would then judge. They evidently had a great time, because it turned into a yearlong kitchen "war"--and led to CookFight: 2 Cooks, 12 Challenges, 125 Recipes, An Epic Battle for Kitchen Dominance by Julia Moskin and Kim Severson (Ecco, $29.99).
We decided on an easier challenge: arm seven reviewers with the book, and find out what they thought. They decided to concentrate on desserts and, really, there was little competition because they all produced winning food. As one reviewer stated, "The banter of the cooks' 'fights' is as entertaining as the years' worth of creative, easy-to-follow recipes are delicious. I'd invite Julia and Kim to my kitchen any time." Another reviewer said, "Moskin and Severson may be competing against one another, but the results of their challenges--witty prose and an arsenal of delicious recipes--make their readers the real winners."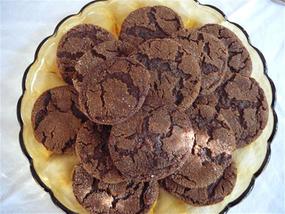 The memoir angle grabbed Cheryl Krocker when she found Julia Moskin's Bacon-Fat Gingersnaps, cookies that were a tradition in Coshocton, Ohio, in Amish country, close to where Cheryl was born. "Bacon fat? A classic 'waste-not-want not' ingredient among the thrifty farm families of the heartland. Yummy, a taste of home!" But Cheryl is in California now, without her mom's bacon grease can. So she asked a Texas-born friend: "Can I borrow a cup of bacon fat?" (she bakes bacon on a rack, then strains the fat and refrigerates it) and was offered a choice: maple-cured or regular. "Grease procured, the rest was a snap: Moskin offers clear, specific ingredient lists and directions. Forming balls of chilled dough was easy, and the gingersnaps baked into perfectly shaped crispy-chewy rounds. None of the tasters recoiled in horror when they learned the secret ingredient. 'I thought it tasted smoky,' one said. 'An aroma like a warm hug' and 'creamy,' others thought."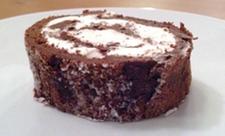 Jessica Howard chose to make "the scrumptious Chocolate Log." Considering that the ingredients consist largely of heavy cream and dark chocolate, she was sure she had a winner on her hands. "My trusty stand mixer and I got to work: whipping egg whites, beating cream, and stirring in oodles of melted chocolate. After the cake baked, sweetened whipped cream was spread thickly across it. Now came the tricky part: rolling up the log, jelly-roll style. I am a novice roller, and it started cracking at first, much to my alarm. The title of CookFight Champion was at stake! But things came together; the log was rolled, and set to chill." Jessica could not wait for the requisite few hours' cooling time, so cut into it after only 45 minutes. The verdict? "Heavenly chocolate perfection. And it's grain free--which is nice for the gluten-free among us."
A fair amount of dirty dishes were created while making Julia Moskin's Chocolate Chiffon Cake, but Lee Cart said it was worth it: "The fluffy, airy, reddish-brown chocolaty goodness would be a perfect ending to a light afternoon tea of cucumber sandwiches, buttered scones, and pots of black tea. Not being super-rich in chocolate flavor or density makes this dessert ideal for those who want to indulge in chocolate cake without any of the guilt found in darker, more concentrated layer cakes. Confectioner's sugar sprinkled on top of a single layer offers a touch of sweetness; a drizzle of raspberry jam or chocolate syrup would add a little more zing and moistness to this semi-dry dessert." She noted that one difference between this cake and many other recipes is the lack of butter, cream or milk in the ingredients. Vegetable oil, cocoa, water and eggs provide the necessary moisture, making this cake great for those who are lactose-intolerant. And, "If you can refrain from indulging, this cake holds up to the taste test even after two days have passed--but it will be hard to make it last that long."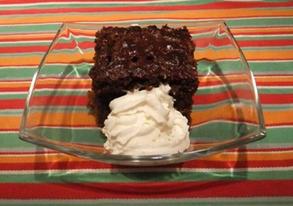 Roni Devlin is a sucker for soft, chewy molasses cookies, so when she found the recipe for Dark Molasses Gingerbread, she was ready. Found in the section of the book called "The Budget Challenge," the gingerbread followed Kim Severson's economically savvy meal of tacos de carnitas with homemade tortillas, fresh salsa and poblano-cabbage slaw. "Though I'd never considered gingerbread as a complement to a Mexican meal before, the pairing is actually brilliant. And the cake was delicious: rich without being too dense, perfectly spiced, and just slightly decadent when eaten alongside whipped cream and dulce de leche." (Slightly decadent?)
Katie Noah Gibson, amid a sea of sweets in the "Bake-Off Challenge" chapter, chose a fun, tart autumnal twist on upside-down cake: Julia's Cranberry Right Side Up Cake. "Because the recipe comes from Nantucket, only fresh cranberries will do. Mix them with walnuts, brown sugar and orange zest and press them into the bottom of a cake pan, then whip up a creamy batter involving flour, sugar, butter and (surprise!) sour cream. Pour the batter over the cranberries, slide into the oven and watch anxiously lest it overflow its smallish pan in the ensuing hour. The bottom of the cake will remain golden, with a few cranberries poking through. But when you take it out of the oven and flip it, you get a surprise: a rich, caramelized brown top studded with rich red berries and crunchy walnuts. It's the perfect layer of tart and crunch to balance the sweet base. This was a hit at an October church potluck, with yellow leaves outside the windows and the tang of fall in the air."
Kim Severson's Peach Cake from the July chapter's "Picnic Challenge" is perfect take-along dessert fare, according to Jaclyn Fulwood: simple, filling and easily portable. "We tested the recipe when our local farmer's market offered peaches at the height of golden, juicy perfection." Severson's recipe calls for all the common ingredients a baker would expect to pair with peaches, notably brown sugar and vanilla. However, "it's the addition of lime zest that gives the cake its je ne sais quoi, a tiny bite of exotic citrus to set off the dripping sweetness of the peaches. Between the inclusion of sour cream and the juices released by the baking fruit, the cake comes out with a moist, dense texture similar to that of a pudding." Should you--no, when you--make this delicious cake, a word of advice: "Have patience when spreading the batter around the peach slices, as its thickness makes the job go slowly. We also found that cutting the peaches into eighths creates a sliced-side-up effect like that of the cake pictured in the book, while using quarters as advised in the recipe may leave skin showing instead. Either way, the finished cake is delicious whether eaten on a picnic or a comfy couch."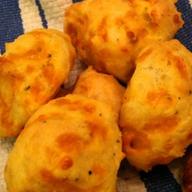 Kerry McHugh broke ranks in favor of a non-sweet entry: cheese gougères. "According to CookFight, traditional French cheese gougères (a wonderfully fancy way to say "puffs") are made with Gruyère cheese, but it turns out these soft puff pastries are just as impressive made with cheddar cheese--yes, even the pre-shredded cheese at your local grocery store. The beauty of cheese gougères is their simplicity. They contain only eight ingredients--one of which is water, so who counts that?--and the rest are general kitchen staples. The preparation is remarkably simple: the ingredients are combined, slowly, over heat--the hardest part of the entire recipe is continuing to stir after your arm gets tired--and then spooned onto a baking sheet. The more ambitious among you may choose to pipe them with a pastry bag neatly onto baking sheets, but now you're just showing off. After 25 minutes in the oven, your tired arm is rewarded with light, fluffy, cheesy and delightfully impressive puffed pastry bites. Make sure to eat them while they are still warm, as egg-based pastry doughs aren't nearly as good cold and don't keep well. Luckily, if you are making these for a party or event, they can be held in a warm oven for up to an hour--or, as I was forced to discover, reheated in a slightly warmed toaster oven if your guests show up later, earlier or drunker than expected."
The winners in the first Iron Shelf? All the reviewers, and everyone who purchases CookFight. --Marilyn Dahl, book review editor, Shelf Awareness