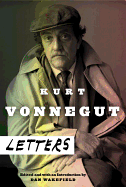 In 2007, Kurt Vonnegut died of head injuries sustained falling down his home staircase. He probably would have had an amusing story to tell about his fate. The acclaimed author left behind a bookshelf of novels, stories, essays and political screeds that entertained and touched a large and varied audience. To this bibliography, we can now add a collection of letters edited by Vonnegut's longtime friend Dan Wakefield. In Kurt Vonnegut: Letters, we discover a man who was not only a celebrity writer with serious political positions, but also a loyal friend, a generous father, a tireless writer, a humanist with an eye for the absurd and an always amused observer of the world around him.
Wakefield does an admirable job organizing the correspondence and establishing their contextual relationship to Vonnegut's personal and publishing activities. The helpful notes on those who are addressed and mentioned in each letter not only clarify the content, they also give us a sense of Vonnegut's broad network of family, friends and business associates.
Vonnegut's life had as many troubles as it had successes. He was a POW during World War II; he was often short of money; his books were frequently misunderstood, banned or ignored; his long first marriage unhappily dissolved... "and so it goes," as he wrote in his most famous novel, Slaughterhouse Five. However, throughout his long life, he maintained a sense of humor that disarmed his critics and warmed his family and friends--and is shared with readers here. Vonnegut now lives on for us not only in his fiction, but also in his letters. --Bruce Jacobs, founding partner, Watermark Books & Cafe, Wichita, Kan.