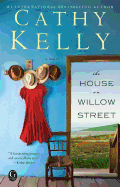 As postmistress of the tiny Irish town of Avalon, Danae Rahill knows a lot of secrets. She has managed to keep the secret of her own past for 18 years, but when her niece Mara comes to stay (and heal from a broken heart), she asks more questions than Danae is prepared to answer.
Tess Power grew up in genteel poverty with her sister, Suki, in a big house overlooking the town, but was forced to sell it after her father's death. Now, as Tess's marriage and her antique shop both face difficulties, the house has come back up for sale. When Suki returns to Avalon, as does Tess's first love, Cashel Reilly, now a wealthy businessman, Tess must revisit painful memories from her past even as she struggles to care for her children and help Suki navigate her own personal crisis.
Kelly creates a charming small-town setting, complete with a cozy café, nosy but well-meaning shopkeepers and neighbors, and not one but two faithful dogs. While the central love story unfolds predictably, other surprises in the narrative (including a cheery motorcycle mechanic and a Christmas dinner party composed of unlikely guests) will hold readers' interest. The slowly unraveling secret of Danae's past lends gravity to an otherwise light plot, providing more reasons to admire her quiet strength.
A tribute to family, friendship and the hope of new beginnings, The House at Willow Street is a heartwarming read perfect for a quiet winter weekend. --Katie Noah Gibson, blogger at Cakes, Tea and Dreams