There are plenty of good "beach reads" in our reviews below; here are a few books if you're thinking about a road trip.
For the literary-minded driver who gets lost in thought, How to Read the Air by Dinaw Mengestu recounts travels from Peoria to Nashville, as a flawed man, facing a painful divorce, retraces a road trip his parents made on their honeymoon in an effort to understand his past and rediscover himself.
The long road to forgiveness is the route taken in A Gift for My Sister by Ann Pearlman, which reunites two estranged half-sisters who are forced to travel from California to their old home town in Michigan. Miles of highway and the stifling confines of a car prove a ripe breeding ground for resentment and sibling rivalry.
For those who get behind the wheel and often forget where they're going, try Bill Warrington's Last Chance by James King. In this novel, Bill, an absentminded 79-year-old kidnaps his 14-year-old granddaughter; together, the pair set off from the Midwest in an old Chevy Impala, heading toward California and hoping to force a dysfunctional family reunion.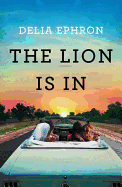 And for the adventurous who love to hop in the car and just take off, The Lion Is In by Delia Ephron offers a wild, whimsical, often bumpy car ride out of Baltimore when three women, each bearing burdens and secrets, are forced to go on the lam. A retired circus lion they encounter in North Carolina ultimately changes their lives.
No matter the destination, buckle up and enjoy the ride offered by each of these literary getaways. --Kathleen Gerard, blogger at Reading Between the Lines