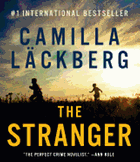 In The Stranger, the fourth installment of Camilla Läckberg's Fjällbacka series, Patrik Hedstrom has his hands full with two murders and a reality TV show in town, not to mention his upcoming nuptials and a newborn daughter.
A gay shop owner who never touches alcohol wraps her car around a tree one night after a fight with her partner. This appears to be an accident--until the results of her autopsy came back. The second murder involves one of the contestants on the reality show. The producers secretly rejoice for the publicity while local law enforcement battles for some semblance of sanity in their efforts to solve the case.
Simon Vance confidently takes the role of narrator for The Stranger, volleying between such characters as the grounded, principled Patrik, his frazzled fiancée, Erica, and the reality show's passel of dysfunctional youths. Vance portrays each convincingly, even the baby whose contributions amount to giggling and crying. Vance's greatest strength in this recording, however, is his ability to set the situational tones. The mortifying absurdity of prioritizing television ratings over human life strikes the listener as strongly as the hate generated by homophobia. These dark tones contrast the happy chaos of a house filled with children, laughter and the anticipation of a wedding.
As Läckberg slowly constructs the suspense, Vance saves the more dramatic tones for the climax, opting for a sense of enticement in the build-up. This approach helps readers forget Vance is even there--they're simply caught up in Läckberg's dark Swedish mystery. --Jen Forbus of Jen's Book Thoughts