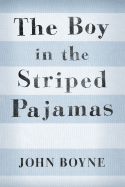 An image came to John Boyne of two boys sitting on either side of a fence; from this image he has crafted a haunting story of the Holocaust, centered on the experiences of nine-year-old Bruno. He says, in the author's note, "Only the victims and survivors can truly comprehend the awfulness of that time and place; the rest of us live on the other side of the fence, staring through from our own comfortable place, trying in our own clumsy ways to make sense of it all." Comfort will disappear early in the book, after the Fury, who has big things in mind for Bruno's father, comes to dinner and orders him to take on new responsibilities. Bruno's family, including his older sister, Gretel, soon leaves their spacious house in Berlin for a less-than-grand house on the edge of a forest. From his bedroom window, he looks over a garden, and beyond the garden, a large complex surrounded by barbed wire with armed guards. Who would build such a nasty-looking place, asks Gretel, as they stare at the low huts, with one or two smoke stacks in the distance. Who are the people who dress alike? The city children guess farmers.
So begins Bruno's new life. Lonely, he rails against the loss of his former life, but finally realizes he must make the best of it. Bored with his new home and tutor and sister, he remembers that he use to enjoy exploration, although he also knows that scouting the territory was risky. "He had been told on countless occasions . . . that he was not allowed anywhere near the fence or the camp." But one day he sets out to walk along the mysterious fence, and after an hour, comes upon a small boy sitting on the other side. They talk, and discover that they are the same age, with the same birthday. Thus begins the friendship between Bruno and Shmuel. Daily Bruno takes the boy in the striped pajamas bread and cheese, although he sometimes eats the chocolate cake before he gets to their meeting place. He wonders why Shmuel doesn't wear a sweater, and why he's so slight and ashen-faced. They have long conversations about their lives, and Bruno realizes that he now has a best friend, even though Shmuel's life is incomprehensible at times (why does he have no shoes?). His naiveté is combined with a new desire to stay out of trouble, which arises after a dinner at which Pavel, the family's servant, drops a bottle of wine: "What happened then was both unexpected and extremely unpleasant. Lieutenant Kotler grew very angry with Pavel and no one--not Bruno, not Gretel, not Mother, and not even Father--stepped in to stop him doing what he did next, even though none of them could watch. Even though it made Bruno cry and Gretel grow pale." Bruno decides later that night that he'd better not disagree with anyone about anything.
The passage above illustrates Boyne's skill at suggesting rather than describing in detail; one's imagination supplies a horror greater than specifics allow. The book starts simply, almost obliquely, but soon a heaviness forms in your heart. The boys' friendship comes to involve betrayal and forgiveness, and inevitable tragedy. I read it one evening, and woke in the thin hours of the morning, haunted by the story. Would a young reader who knows little or nothing of the Holocaust understand it? Some of the details, no; however, do the details matter? The fence matters, the friendship matters, the evil matters.
The Boy in the Striped Pajamas
is disturbing and moving, with much to discuss and remember; indeed, it has been impossible to forget.--Marilyn Dahl