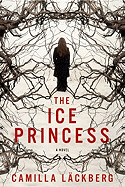 The extraordinary success of Stieg Larsson's novels (as well as those by Henning Mankell and others) is testimony to the growing popularity in the U.S. of the type of Swedish crime writing that is characterized by darkness--both literal and figurative--and psychological complexity. Making her U.S. debut with The Ice Princess, Camilla Läckberg--"the most profitable native author in Swedish history"--hopes to find as welcoming an audience. While employing the same blend of chilly, stark external and internal landscapes found in other Scandinavian novels, Läckberg's tone is distinctly lighter and may garner an entirely new set of readers.

The Ice Princess is the first of seven novels that Läckberg has set in her home, Fjällbacka, a small tourist town on Sweden's southern coast. Here, as in any small town, the neighbors gossip, secrets surface and family skeletons have a way of falling out of the closet. Nobody knows this better than Erica Falck, a successful author of biographies who has come home to settle her deceased parents' affairs and work on her next book. Erica's troubles, which include an abusive brother-in-law, an overdue manuscript and a string of failed relationships, turn truly grim when she discovers the body of her best childhood friend, Alexandra, in an iced-over bathtub--an apparent suicide. Alex's grief-stricken parents ask Erica to write an article about their daughter, which leads Erica to start digging into Alex's past. It soon becomes evident that Alex was murdered and that almost everyone in tiny Fjällbacka could be a suspect. Included here are the dead woman's mysterious lover; Anders, the town drunk and tortured artist; the menacing scion of Fjällbacka's canning-magnate family; and Alex's ugly duckling younger sister.

Joining forces with local cop Patrik Hedström, with whom she also begins a sizzling romance, Erica discovers some horrifying truths about her hometown and its inhabitants that have been hushed up for decades under layers of deceit. As she and Patrik edge closer to finding Alex's killer, the prime suspect turns up dead and Erica's sister finds herself in dire straits.

Although Läckberg's weightier themes--domestic violence and child abuse--are given short shrift in the service of her many subplots, the writing is highly atmospheric and the pacing keeps the pages turning. Fjällbacka itself is a compelling presence in the narrative, an ideal setting for this small-town murder mystery.--Debra Ginsberg

Shelf Talker: The U.S. debut of an atmospheric murder mystery set in the small tourist town of Fjällbacka by Sweden's bestselling crime writer.