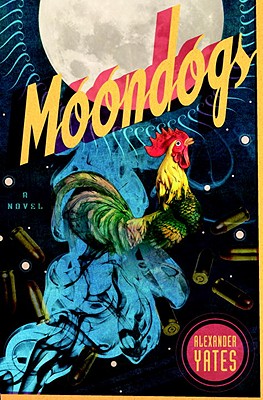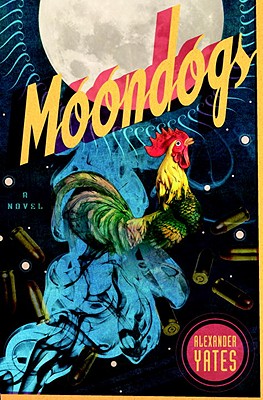 Benicio Bridgewater wants to repair his relationship with his absentee father; after reuniting at his mother's funeral, Benicio has agreed to come to Manila so they can spend some quality time together. But Howard never shows up to meet him at the airport, so Benicio makes his own way to his father's hotel, stewing over his resentments. What he doesn't know is that Howard hasn't just bunked off--he's been kidnapped by a desperate (and none too bright) cab driver, assisted by his even-less-clever brother and a retired cockfighting rooster, with no better plan than to try to sell him to Muslims, because Muslims hate Americans, right?
If that were all there was to Moondogs, it would make for a serviceable comic novel, in the vein of Elmore Leonard perhaps, mixing family drama and botched criminal mishaps. Another of the central narrative threads, about an American diplomatic officer who's having an affair with a high-ranking Filipino police officer, would fit perfectly into this mold. But Alexander Yates doesn't stop there. Benicio's memories of his mother's claim to be able to tell the future in her dreams are just a hint of the profound weirdness found in Yates's version of the Philippines, most of which is seen through the eyes of Efrem Khalid Bakkar, a solider with supernaturally accurate aim who's been recruited into an elite squad of equally magical commandos by that high-ranking policeman, whose career is also the basis of a series of hit action movies--and the actor who plays him in those films is running for office, his campaign managed by a friend of Howard's who tries to keep Benicio entertained in his father's absence....
It's a lot of story for one novel, but Yates nimbly keeps all the narrative balls aloft while creating a consistent tone between the realistic emotional crises, the screwed-up kidnapping, and the fantasy elements that allow for non-disruptive shifts from humor to tragedy. Most importantly, Yates doesn't allow Benicio to be a hapless observer; in many scenes, even given his deep-rooted frustrations with Howard, his obnoxious treatment of the locals borders on Ugly Americanism, and when he tries to overcompensate, his father's friend reminds him: "Whatever you see peeking out right now, what it is you don't like.... That's Benicio." The quirks in Moondogs won't be to everyone's tastes, but readers who are willing to accept Yates's world on its own terms will find much to appreciate.--Ron Hogan
Shelf Talker: Like Jonathan Lethem's The Fortress of Solitude or Victor LaValle's Big Machine, Yates's debut grounds its weirder elements in the solid emotional realism of its characters.