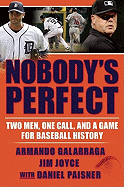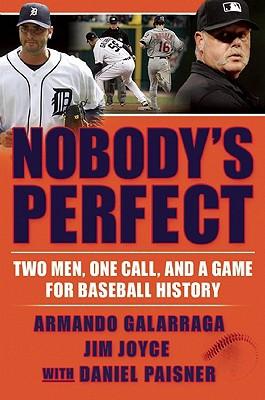 "I do not always like this, when another player is hungry. I like it when I am the only one who is hungry. Or when I am the most hungry," Detroit Tigers pitcher Armando Galarraga says of his feelings of facing Trevor Crowe, the first batter up in the June 2, 2010, game he pitched against the Cleveland Indians. Crowe, despite his hunger for a hit that would get him on base, was soon out--and so began a pitching game that will live in legend.
Galarraga would continue to strike out batters and be backed up by his teammates with astonishing plays, until he found himself, at the top of the ninth inning, just one out away from pitching a perfect game. Then he faced Cleveland rookie Jason Donald. Galarraga sized up Donald at that moment: "I do not trust this rookie.... He has something to prove, just like me."
As Galarraga tells it in this mesmerizing and emotionally complex revisit to that now-infamous game, the tension between them was nerve-wracking. And then Donald connected with a pitch and raced toward first, hell-bent on being the first man to reach base in this so-far perfectly pitched game.
What could have gone down as the 21st perfectly pitched game in the record books of Major League Baseball hung in the balance as Detroit players fielded the ball and threw it to Galarraga, who was running to first base to tag Donald before he reached the bag. Galarraga was feeling triumphant as he caught the ball and touched his foot to the base: the perfect game was his! But then Jim Joyce, the first base umpire, made his infamous call. When Joyce yelled, "SAFE!" Galarraga saw his perfect game go up in smoke.
Nobody's Perfect achieves the remarkable feat of taking us inside the heads of both the pitcher and the umpire at the moment of that call, and during everything leading up to it. Baseball players and officials pride themselves on appearing unreadable on the field but, in alternating chapters, Galarraga and Joyce reveal in their own words, with surprising candor, what was going on behind their opaque game faces. Both men came to that ninth inning on June 2, 2010, with a lot of history: as a 15-year-old in Venezuela, Galarraga signed a contract with the Montreal Expos in October 1998 and had been working his way up through the minor leagues to get the opportunity to prove himself as a game-winning pitcher in a very competitive business; Joyce had endured a long haul before he became a Major League umpire and has his share of insider tales, too. Every revelation deepens our appreciation of their love of the game and seriousness of purpose in doing their jobs; with thrilling immediacy, Nobody's Perfect delivers the personal stories behind the public face of a game that will have its own page in baseball history.--John McFarland
Shelf Talker: A thrilling, emotionally complex revisit to the legendary almost-perfect game of June 2, 2010, complete with the satisfying back story of the careers (and psychologies) of the pitcher and the umpire who shared a first-base call that made history.