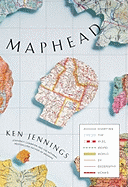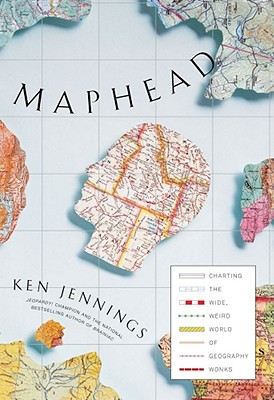 On the way to winning more than $2.5 million in 75 appearances on Jeopardy, Ken Jennings had to answer his fair share of geography questions. What wasn't necessarily apparent in that competition is that he's had a lifelong fascination with maps, an obsession that provides the springboard for a lively journey through the world of his fellow geography wonks.
To reveal that world, Jennings offers a dozen loosely connected chapters exploring different aspects of his topic. Some, like American students' abysmal ignorance of geography, aren't all that surprising. "Geographical ignorance is such an ingrained part of our culture," Jennings writes, "that it's become an easy bit of comedy shorthand for ditziness." He found one antidote for that affliction in the National Geographic Bee, created in 1988 and now involving five million participants vying annually for a $25,000 college scholarship. The breadth and depth of their knowledge as Jennings describes it on a 2008 visit to the competition is nothing short of staggering.
Other chapters consider more obscure topics, like the people Jennings calls "place collectors," bent on piling up visits to different locations. Among them are the Travelers' Century Club, whose members must have visited at least 100 different countries, or the Highpointers Club, 3,000 strong, comprised of people who have scaled the highest elevation in each state (Florida's is a mere 345 feet).
As one would expect from his background as a computer scientist, Jennings can't avoid examining how technology has reshaped the way we encounter and understand geography. When the first GPS satellite was launched in 1978, its creators probably never envisioned the explosive growth of geocaching-- high-tech scavenger hunting. Jennings also recounts a revealing conversation with Brian McClendon, vice-president of engineering for Google Geo, who's determined to create a map so precise it will mark "the end of resolution."
For better or worse, those who recall Jennings's Jeopardy run won't have any trouble summoning him up here in all his nerdiness (Alex Trebek even makes a cameo appearance as moderator of the National Geographic Bee). And he can't always resist the urge to remind us he's the smartest guy in the room by dropping a few too many footnotes overstuffed with arcane knowledge.
But those flaws don't detract from the fundamental appeal of Jennings's book. For all the useful, fun, often surprising information he imparts, there's a subtle message that undergirds these stories: in rootless times, maybe we all need something to offer us a sense of our place in the world. An enhanced appreciation for geography, Ken Jennings's survey suggests, may be one road to that destination. --Harvey Freedenberg
Shelf Talker: Jeopardy superstar Ken Jennings takes readers on a whirlwind tour of the world of the geography-obsessed.