The Chronicles of Harris Burdick: 14 Amazing Authors Tell the Tales by Chris Van Allsburg, with an introduction by Lemony Snicket (Houghton Mifflin/Houghton Mifflin Harcourt, $24.99, 9780547548104, 208p., ages 10-14, October 25, 2011)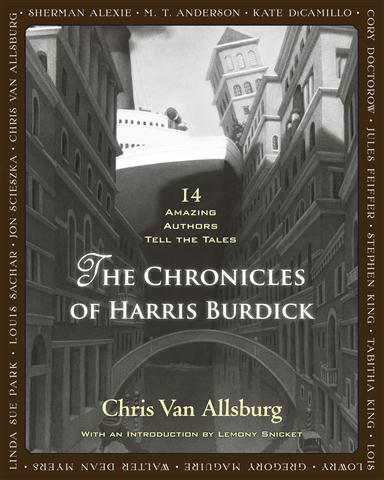 More than 25 years ago, Chris Van Allsburg published the original The Mysteries of Harris Burdick--a set of 14 drawings connected only by their elusive quality and a caption that suggests that each is part of a larger story. Van Allsburg's introduction explained that Harris Burdick had met with an editor, Peter Wenders, and showed him one image each from 14 stories he'd written and illustrated. Wenders expressed interest in the project and invited Burdick to bring him the rest. Burdick said he'd be back the next day. He was never seen or heard from again.
Those 14 images have sparked the imaginations of thousands of young readers and writers, many of whom sent their stories to Van Allsburg. One of those writers has quite a high profile: Stephen King. With The Chronicles of Harris Burdick, 14 esteemed authors and artists, including Van Allsburg and King, each create a story inspired by one of those images.
Lemony Snicket, in his introduction to this collection, ups the ante. He suggests that the 14 contributors here know Burdick's whereabouts but are keeping it secret. In fact, he believes that Burdick actually wrote these stories and distributed them among his "cohorts, a word that here means 'other people in his line of work.' " Snicket acts as the ideal emcee, creating a literary equivalent of nesting dolls.
The stories range in tone from funny to creepy to poignant and often blend these qualities, and they will all haunt you--a word that here means both "to continually seek the company of" and "to have a disquieting effect on." The elegantly designed volume presents each image printed in sepia tones on coated paper on the right, with its title and caption on the left-hand page. The story follows, with each author incorporating the caption at some point in his or her story.
The book begins and ends with Kings. According to Van Allsburg, Stephen King received The Mysteries of Harris Burdick as a gift, and his novelist wife, Tabitha King, suggested they try their hand at stories to fill out Burdick's images. Her opener, an out-of-this-world baseball tale, casts "Archie Smith, Boy Wonder," as a home-run hitter who likens his at-bats to Luke in Star Wars ("wielding his Jedi light sword against a tiny sphere of light")--which turns out to be a prescient thought when tiny spheres of light visit him one night. Stephen King's "The House on Maple Street" (which originally appeared in his 1993 collection Nightmares and Dreamscapes) is presented alongside its inspiration: a house literally blasting off, using its perfectly manicured suburban yard as its launchpad. Inside that house, King imagines four children who blame their stepfather for their mother's unhappiness and frequent migraines. They discover some oddities about the house and, after some investigation, realize the house itself could help them solve their stepfather problem.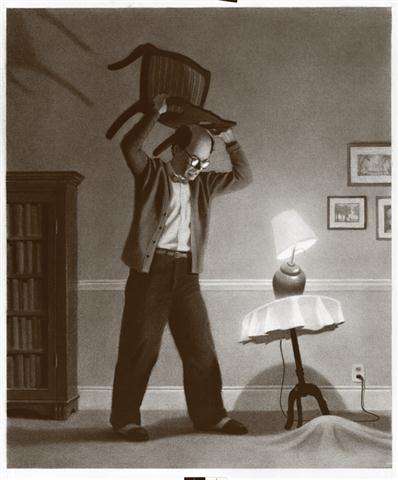 Jon Scieszka's "Under the Rug" is the first of three stories that reveal how much we use laughter as a release from fear and anxiety. His narrator's grandmother spews so many clichés that the boy rarely heeds them. But how he wishes he'd taken her advice to "Never sweep a problem under the rug"--a tale with a scary-funny resolution that only Scieszka could deliver. Lois Lowry suggests in "The Seven Chairs" that girl babies are born to levitate, they just forget how--except for Mary Katherine Maguire, who hones her skill with entertaining results and takes the idea of the flying nun to a whole new level. Pearlie's brother has gone to war and left her with "fat-ankled Aunt Hazel" in "The Third-Floor Bedroom" by Kate DiCamillo. When Pearlie falls ill, the walls that confine her spur a transformation, and the author allows the girl's mask to fall away, revealing a depth beneath Pearlie's unflappable veneer.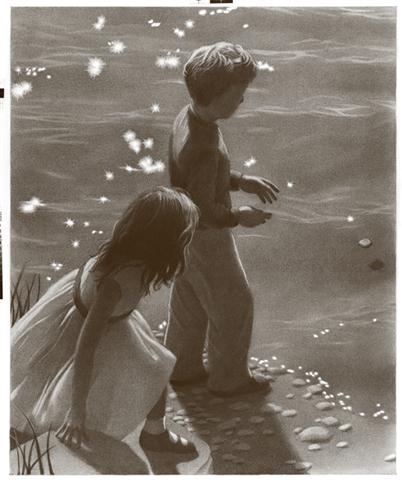 Several stories deliver justice through comeuppance. The terrible twins in "A Strange Day in July" by Sherman Alexie invent a triplet that strikes terror in the hearts of their parents, classmates and teacher--and eventually its siblings. A book wields the power in "Mr. Linden's Library" by Walter Dean Myers. The retired merchant seaman of the title tells young Carol Jenkins she's welcome to borrow any book from his collection--except the one that's lying open. Some books "capture more of the mind than one would want to surrender," he warns. (This tale may cause you to reassess your reading habits.) In a way, the caterpillar stars of "Oscar and Alphonse: The Farkas Conjecture" by Chris Van Allsburg get the last word ("spelling out 'goodbye' ") when they leave an open question--in more ways than one.
Many of the mysteries here begin with an unrecoverable loss. Cory Doctorow's young hero, Gilbert, uses what he knows of time and space to journey with two friends along the rails on a handcar to "Another Place, Another Time," in which his father is not lost at sea. A caped magician works his magic "closer to home" when he brings together two bickering sisters and a boy whose mother has just died in "The Harp" by Linda Sue Park. Linus, too, has just lost his father and must now rely upon a greedy stepmother in "Missing in Venice" by Gregory Maguire. The boy finds a magical ring that belongs to a baker he deems "the Queen of Gingerbread," and their fates become entwined on the city's canals. And Paul, the young hero of "Captain Tory" by Louis Sachar, will never be able to replace the loss of his parent, but he finds a way to create a different sense of home through the presence of Captain Tory in his life. Henry has lost his wife and sons to "a permanent vacation" because he put his work as a children's author and artist ahead of them, and now his characters lead Henry down a seemingly inescapable path in "Uninvited Guests" by Jules Feiffer. M.T. Anderson's "Just Desert" will rock your world as surely as he does Alex Lee's on the eve of his 10th birthday (the Lees' address happens to be on Maple Street); Alex's loss may be the most profound.
The stories feel complete, yet unfinished, as if the characters and situations live on without us to witness their continuation. Will Gilbert find his father? Will our next-door neighbor's house suddenly blast off? Is our world real? The stories and their open questions linger in our minds and in our thoughts. At the same time, the stories suggest that we examine our surroundings more closely, for that hidden harp music or sentient caterpillars or the squid hiding in a Venetian canal. The images and stories here are a meditation on the known and unknowable and ask us to consider the mystery, the sense of possibility, as perhaps more alluring than what we know.