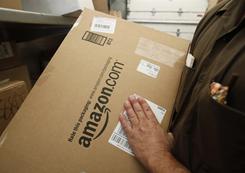 Connecticut is the latest state to push back against Amazon regarding the online sales tax issue. BusinessWeek reported that state officials "are not giving up on requiring Internet sellers to collect state sales taxes," despite indications from the online retailer "that it has no immediate plans to abide by the state's new Internet tax law." Earlier this month, Amazon wrote the Department of Revenue Services claiming it is not obligated to obey the law because it does not have a physical presence in the state.

Connecticut will press Amazon for taxes the state alleges should have been collected "at least during the month or so when the new law was in effect and Amazon still had affiliations with websites in Connecticut through its Amazon Associates Program. Amazon severed those ties in June," BusinessWeek wrote.

DRS Commissioner Kevin Sullivan said this is just the beginning: "All we have to do is get in the door. Once we get in the door, there are some more opportunities that come.... They're not fighting against a burden on their ability to do business in the state of Connecticut. They're fighting to protect an advantage against everybody else who's doing business in the state of Connecticut."

---

Amazon has launched its seventh publishing imprint, 47North, which focuses on science fiction, fantasy and horror. The imprint will debut with 15 books, including The Mongoliad: Book One, the beginning of a five-book, collaborative Foreworld series led by Neal Stephenson and Greg Bear.