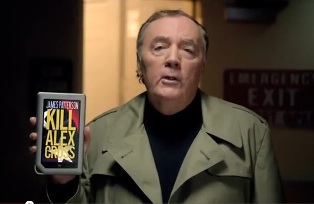 The new commercials for Barnes & Noble's Nook Tablet feature thriller author James Patterson in a trench coat lauding the device for its "killer entertainment" and Glee's Jane Lynch singing its praises--"This hot thing's the brand new Nook Tablet"--during a mini-musical salute in a B&N cafe.

---

Patterson's relationship with B&N also includes a new holiday promotion that "hints at Barnes & Noble's future plans for bundling e-books with print books. And it's an instance where Barnes & Noble's good author relations benefit it over Amazon," paidContent.org noted.

Under the promotion's terms, customers in a physical B&N store who purchase Patterson's Kill Alex Cross in hardcover, along with any other Patterson title for children or adults in any format, will receive a digital version of a B&N exclusive novella, Merry Christmas, Alex Cross. The promotion is not available online, and paidContent offered three reasons why it is an important development:
B&N is using its physical stores to facilitate online transactions.
B&N has an exclusive with one of the most popular (and highest-paid) fiction authors in the United States.
The stores and the physical book are a big component of the deal.