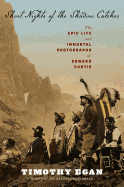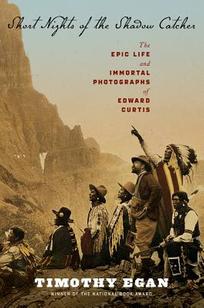 Seattle resident Timothy Egan digs into his hometown's past with the superlative Short Nights of the Shadow Catcher. His biography of the photographer Edward Curtis (1868-1952) mesmerizes--it's instructive, entertaining and a joy to read.
In the late 19th century, Curtis had a successful photography studio in Seattle. The last surviving daughter of Si'ahl, the Native American chief who gave the city its name, lived in the city too, and once Curtis found out about her, he had to take her picture. From then on, he became determined to find more Native Americans to photograph.
One day, he came across a lost hiking party on Mt. Rainier and led them to safety. (They said he "appeared out of the fog on a glacier, a bounce in his step.") One of the hikers was C. Hart Merriam, co-founder of the National Geographic Society, and he invited Curtis to join him as the photographer on a voyage to Alaska. Curtis took 5,000 gorgeous photographs, many of Native Americans, using a laborious photogravure process in which the image was chemically etched onto the surface of a copper printing plate. (In later years, single plates from his books would fetch thousands of dollars.)
With Merriam's encouragement, he traveled to Montana to photograph the dwindling Blackfeet people. He now saw his life's work as photographing as many Native Americans as he could; thus was born the 20-volume The North American Indian. In historical importance and value, Curtis's work--financed by J.P. Morgan--rivaled Audubon and Lewis and Clark; one paper called it "the most gigantic undertaking since the making of the King James edition of the Bible." Although Curtis was criticized by some for "staging" his photos, he always wanted them to be as authentic as possible. When it was completed, his magnum opus compiled more than 1,500 photogravure plates of Indians from roughly 80 tribes. Yet fewer than 500 copies were printed, and complete, uncut sets are now worth millions.
The adjectives Egan uses in his subtitle--epic, immortal--set the bar high, but he clears it with ease. When it comes to superlative historical writing, this is as good as it gets. --Tom Lavoie
Shelf Talker: National Book Award-winning historian Egan's dazzling prose takes us into the fascinating world of the photographer Edward Curtis.