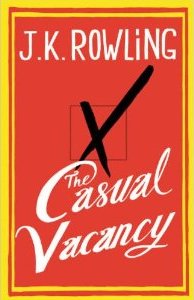 In its first six days on sale,
The Casual Vacancy
by J.K. Rowling has sold 375,000 copies in all formats and "is on track to become the year's bestselling novel in hardcover," Michael Pietsch, executive v-p and publisher of Little, Brown, said yesterday. The company has printed two million copies of the book.

Mitchell Kaplan, owner of Books & Books, with stores in southern Florida, the Cayman Islands and New York, told the Wall Street Journal: "The book is doing really well for us. There's a lot of interest and people are buying it. Some reviews were really harsh, but word of mouth seems to be fairly good." He predicted that the The Casual Vacancy will be "a book that continues to sell well."