Poet Albert Goldbarth tied the knot at Watermark Books in Wichita, Kan., with proprietor Sarah Bagby officiating at the ceremony. Novelist Angela Davis-Gardner credits Nancy Olson, the owner of Quail Ridge Books & Music in Raleigh, N.C., with saving her career. Fannie Flagg was accidentally locked in a broom closet at Page & Palette in Fairhope, Ala., minutes before her signing was set to start. Short story writer and columnist Jack Pendarvis is addicted to visiting Square Books in Oxford, Miss. "If I miss a day I start feeling shaky," he admits.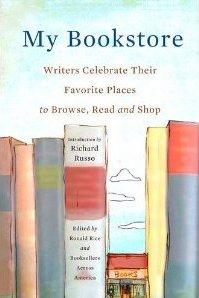 These scribes and more than 75 others contributed to My Bookstore: Writers Celebrate Their Favorite Places to Browse, Read, and Shop (Black Dog & Leventhal, $23.95, 9781579129101), which is being published November 13. Publishing industry veteran Ronald Rice, who edited the book, worked with booksellers across the country to recruit authors to share their stories about where they shop and why. Ranging from hilarious to heartwarming, the essays are "a real celebration of bookstores," Rice said.
Staffers at Black Dog & Leventhal came up with the idea for My Bookstore after reading Richard Russo's December 2011 New York Times op-ed, "Amazon's Jungle Logic," in which he took the retail giant to task for encouraging customers to use its price-check app in stores and then buy online. Russo penned the introduction to the collection and Emily St. John Mandel an afterword. Contributing authors were given free rein to write whatever they wanted "as long as it was an ode to the brick and mortar store," said Rice. Although most opted for prose, Daniel Handler, Lemony Snicket's alter ego, and his wife, illustrator Lisa Brown, created a visual homage to San Francisco's Booksmith in comic strip form. Picture book author Nancy Shaw composed a rhyme in which the sheep that appear in her tales discover personalized service at Nicola's Books in Ann Arbor, Mich.
My Bookstore is receiving the royal treatment at the Alabama Booksmith in Birmingham, where owner Jake Reiss is constructing a permanent standing display for the tome in the center of the store. A seven-foot lighted sign in the parking lot is currently promoting a November 14 appearance by Rick Bragg, who wrote about the retailer in My Bookstore. After the event, the sign will be swapped out for a permanent one touting the essay collection.
Reiss plans to make My Bookstore a top hand-selling priority at the Alabama Booksmith. "It's not only chock full of brilliant prose, humor, and real life that all readers will identify with, it's a constant ad for indie booksellers," he remarked. When asked to participate in the project, he immediately thought of Bragg, who has a longstanding history with the store, to immortalize it in print. He was reluctant to approach the author, who was on deadline wrapping up a manuscript, but when Bragg found out about the idea he enthusiastically took on the task.
Along with noting that the Alabama Booksmith does not have a resident feline, a plus in his view, Bragg acknowledges he is honored to have his titles on the shelves there. He credits Reiss, who traded a highly successful tailoring business for bookselling, with "making good books and authors available to people who love to read" and for finding "a way to make the old-fashioned notion of it all, of books on paper, pay the light bill and a damn sight more."
In honor of My Bookstore's publication, Black Dog & Leventhal has established three $2,500 scholarships for booksellers to attend the ABA's Winter Institute 8, funded in part by the book's contributors. Contest entrants were asked to share "Why My Bookstore Matters" in written form, video or audio. Winners will be announced the week of November 12, as My Bookstore is fêted from coast to coast. Along with Bragg's event at the Alabama Booksmith, more than 40 other soirées are taking place from Seattle and St. Louis to Mystic and Miami.
In a tribute to Village Books in Bellingham, Wash., Tom Robbins likens bookshops to temples, shrines and cathedrals, while children's author Jeanne Birdsall sums up her feelings for her "personal bookstore" in Northampton, Mass., this way: "Thank you, Broadside Bookshop, for being my very own. Here's to books, forever and always. Amen." --Shannon McKenna Schmidt