Hardcovers still rule the holiday gift-giving season, according to USA Today, which analyzed its top-50 bestseller list and found that currently "the most popular format is hardcover (25 of the 50 titles), followed by paperbacks (13) and e-books (12)."

These numbers are holding steady compared to last year at this time, when 30 hardcovers, 13 paperbacks and seven e-books occupied the top-50. In June, the list was essentially reversed: e-books (21), paperbacks (16) and hardcovers (13). After the holidays, however, there may be another "e-book surge" similar to last January (35 e-books, 9 hardcovers and 6 paperbacks) "after millions of new e-readers and tablets were activated," USA Today wrote.

"The holidays remain the heartbeat of print book sales," said Michael Norris of Simba Information. "When you give someone a gift, you want it to have some weight, to see them open it. You can't really do that with an e-book or a Barnes & Noble gift card."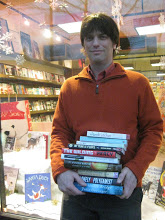 Daniel Goldin, owner of Boswell Book Company, Milwaukee, Wis., reported healthy early holiday sales for hardcovers, singling out Chris Ware's Building Stories as a strong performer: "The design makes it an experience that cannot be duplicated on a tablet," he said. "There's way too much touch involved."