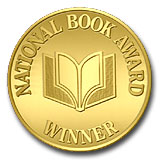 In an effort to "broaden the reach and impact" of its awards program, the National Book Foundation is tweaking its National Book Awards review and selection process by adding a longlist and expanding the judging pool to include booksellers and librarians, among others. The decision comes after a year of discussion and a study by an independent consulting firm, which included soliciting input from hundreds of members of the book community, according to the NBF.

"Our mission is to increase the impact of great writing on American culture and these changes are concrete steps to further that mission," said David Steinberger, chairman of the NBF's board of directors and CEO of the Perseus Books Group.

The number of honored books will increase by selecting a 10-title longlist in each of the four genres (fiction, nonfiction, poetry and young people's literature), to be announced five weeks before the finalists are named. This year, the longlists will be released September 12 and the shortlists October 15, with the four winners named November 20.

"Every year many worthy titles don't make it all the way to becoming finalists. The longlist will allow us to recognize more good books and broaden the conversation," said Morgan Entrekin, vice-chairman of the foundation's board and publisher/CEO of Grove Atlantic.

In another significant change, judges comprising the four genre panels will no longer be limited to writers, but now may also include other "experts in the field," including literary critics, librarians and booksellers. The number of judges for each panel will remain at five.

"In the 1950s, '60s, and '70s, such prominent critics as Malcolm Cowley, Irving Howe, Alfred Kazin and Helen Vendler served as National Book Award judges, bringing a breadth of knowledge and expertise to the panel discussions." said Harold Augenbraum, NBF executive director. "By enlarging the judging pool, new and exciting voices will again deepen and enrich the process."