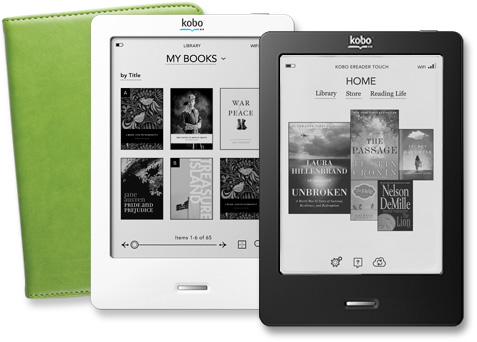 Now three years old, Kobo doubled device sales last year and gained more than four million new customers within the last six months, to bring its total to more than 12 million registered users, the company said. Citing a recent DigiTimes report that Kobo has 20% of the global e-reader market, the company also noted that its E Ink e-reader sales were up nearly 150% in December, with Kobo users reading more than 22 million pages on Christmas Day.

"Millions of new users registered with Kobo in December alone, annual device sales soared with millions of Kobo e-readers bought, and e-book sales nearly doubled from the previous year," CEO Michael Serbinis said. "2012 was truly outstanding for our company and our network of booksellers and retailers around the world." That included a deal with the American Booksellers Association, replacing Google as many indies' e-book and e-reader provider. For 2013, Kobo plans to continue its global expansion through booksellers and retailers, becoming active in additional countries, including Russia, India and China.

Other highlights from Kobo's end-of-year report:
The average Kobo customer bought 20% more e-books in 2012 than in 2011.
English was the most common language read, followed by French and Japanese.
People in Canada read the most on Christmas Day--with an average of 200 pages each--while Americans read 160 pages and the British read 93 pages.
The most popular genre at Kobo is romance.