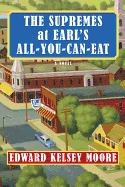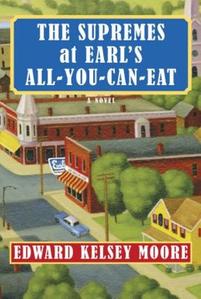 A decades-long friendship between three women forms the backbone of Edward Kelsey Moore's funny and tenderhearted debut novel, The Supremes at Earl's All-You-Can-Eat. For four decades, Odette, Clarice and Barbara Jean have had a standing date every Sunday at Earl's All-You-Can-Eat diner in Plainview, Ind.; as their heartbreaks, marriages and the most eviscerating of tragedies unfold, the neighborhood diner sets the scene for recurring dramas with a cast of unforgettable characters.
The story moves back and forth between past and present, fleshing out the relationship between the three women, nicknamed the Supremes by their 1960s high school classmates, from its unlikely beginnings through the increasingly complex developments of later years. Each of the Supremes faces a challenge that will be the ultimate test of their strength. Emerging as the heart of the novel is Odette--fearless, no-nonsense and immensely loyal. Like her mother, Odette has begun to see ghosts, and they've started hinting that she is next. After decades of marriage to the cheating Richmond, Clarice must decide how she is going to live the rest of her life, while Barbara Jean tries to find a way to reconcile her past mistakes. Along the way, the women will discover that middle age can be a rebirth rather than the end of one's youth.
Moore expertly combines tragedy and comedy in a way that feels fluid and natural, creating a world that is internally consistent and rich. Plainview may be a small town, but it possesses a multitude of layers, incorporating vivid personalities, a distinct set of values and the spectre of racism. Comic interludes, from an absurd wedding to the antics of the town's fake medium, are interwoven with the personal dramas of the Supremes--and because everyone knows everyone in Plainview, all the characters get into the action, often with uproarious results.
Perhaps the most remarkable quality of The Supremes is love--the author's love for his characters, even the most flawed, shines from every page. If Moore's novel is about a rebirth in middle age, it is also about achieving redemption against all odds, even when it seems too late. --Ilana Teitelbaum
Shelf Talker: A funny, tenderhearted debut novel about the enduring friendship of three women through life's great challenges, and the vividly drawn town in which their dramas take place.