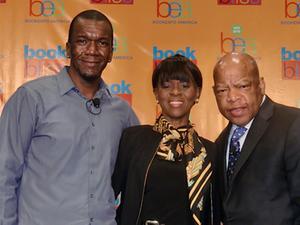 Authors Jason Mott and Congressman John Lewis flank moderator Vanesse Lloyd-Sgambati.
Acting as moderator at an event dubbed "Water Cooler Books that Buzz," Vanesse Lloyd-Sgambati, WURD-AM reporter and founder of Literary Media and Publishing Consultants and of the African American Children's Book Project, called Congressman John Lewis an "American treasure for his tireless work for making out planet better." Lewis is the author of the graphic novel-style memoir March (due out in August), the first in a trilogy to be published by Top Shelf Productions (which is headquartered in Rep. Lewis's district in Georgia) and distributed by Diamond.
Lewis said that he was raised in a family headed by his sharecropper father (who saved $300 to buy the land his family still owns) to not "get in the way and not get into trouble." But, he said, as a young man aspiring to college who heard of Rosa Parks and was given a round-trip ticket and an invitation for a meeting by Martin Luther King Jr., he quickly became someone who got in the way and got into trouble. "I hope the book is an inspiration for people to get in the way," said Lewis. "We're one people, one family. We all live in the same house--the American house."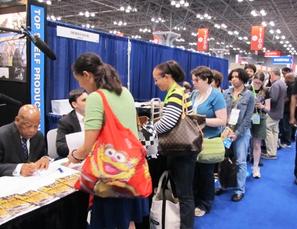 Lewis signed copies of March for a long line of fans.
But why a graphic-style memoir? The idea came as a suggestion from Andrew Aydin, Lewis's campaign press secretary--a 24-year-old white guy who was writing his graduate thesis on Martin Luther King and the Montgomery Story, a 1958 comic book that had inspired Lewis and other student activists in the civil rights movement.
"I wanted to know the rest of the story," said Aydin, who co-authered the book, from the audience. "And I wanted it to speak to me on my level." He said he hopes to "resurrect" the idea of books influencing young people toward the discipline and philosophy of nonviolence like that 1958 comic did.
"People will be saying they want their literary careers to be 'Mott-sized' " said moderator Lloyd-Sgambati, by way of introducing Jason Mott, a poet whose debut novel, The Returned (Harlequin Mira, Aug.), is being made into an ABC series. When ABC brings Mott's novel to the small screen in January it will be renamed Resurrection, which is fine with the author. The Returned is about a couple in their 70s who are visited by their deceased son--who drowned when he was eight. Mott said the idea came from a dream he had in 2010 in which his mother--who died in 2001--was sitting at his kitchen table.
Mott, who still lives in a small southern town of 600 people where the legacy of Jim Crow and race issues are just part of life, said that when he started writing the story that fact that the couple in The Returned was white did not occur to him. After both of Mott's parents died, he said, a white family "adopted" him, and became unconditional supporters when he was just a "random guy" writing poetry in his 20s. Mott credited John Lewis, and the others Lewis writes about in March, with making his story possible.
"It says something about the distance we've come and the hurdles we've made," said Lewis. "Maybe one day we'll emerge as a model for the rest of the world." --Bridget Kinsella