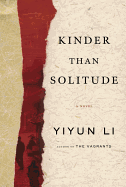 Yiyun Li 's second novel, Kinder Than Solitude, reconstructs the intense friendship of three Beijing teenagers in the late 1980s and studies how their youthful--and ambiguously culpable--connection to the poisoning of a young woman still reverberates 20 years later. Boyang, the only member of the trio who resides in China as an adult, manages his development deals and love life with analytical dispassion while dutifully continuing to visit brain-damaged Shaoai; Moran and Ruyu attempt to quarantine themselves (separately) in American marriages and self-effacing careers. Narrated from the points of view of the three protagonists, Kinder Than Solitude executes a quadruple play: it's an attempted-murder mystery, a soft satire of modern mores across two cultures, a psychological exploration of tragedy's aftermath and, most trenchantly, a vivid re-creation of adolescent aspiration and claustrophobic social dynamics in the era of the Tiananmen Square protests.
Although masterfully composed, the first chapter is set two decades after the poisoning and introduces more names and relationships and heaviness--including the lonely cremation of Shaoai--than a reader can easily process from a cold start (its literary power is best appreciated upon return). Once the second chapter reverts to Ruyu's arrival at Beijing's train station at the age of 15, Kinder Than Solitude alternates productively between the teenage and the adult timelines. The novel's momentum accelerates as the teenage action nips closer and closer to the circumstantial clues surrounding the poisoning while, in the adults' timeline, their older selves destabilize in reaction to Shaoai's long-delayed death.
Kinder Than Solitude's only underrepresented ingredient is sex: for all their yearnings, the teens come across as extraordinarily chaste in deed and thought; as adults they remain resolutely mum about the distinctiveness of their sexual relationships. Even 37-year-old Boyang, a "diamond bachelor" whose romantic negotiations with striving young women from the provinces are rendered with impressive psychological intricacy, appears practically gelded on the page.
However, there's certainly no shortage of rote raunch in contemporary fiction and Li, the recipient of a 2010 MacArthur "genius" fellowship, offers a rarer pleasure: plentiful astute human characterization. Kinder Than Solitude teems with memorable individuals of all ages whose actions spring from their traits. Li also enhances the reader's surmising of responsibility for Shaoai's poisoning by subtly realigning sympathy and suspicion from one chapter to the next.
In one of the novel's many aphorisms, Li writes, "A secret that never heals makes a person, however close, a stranger, or worse, an intimate, an enemy." The secret that binds Boyang, Ruyu and Moran is presented with so much complex causality that even the reader experiences the contagion of implication. --Holloway McCandless, blogger at Litagogo: A Guide to Free Literary Podcasts
Shelf Talker: After the short stories of Gold Boy, Emerald Girl, Li returns to the novel to portray the indelibility of teenage experience and the loneliness that comes with secrets.