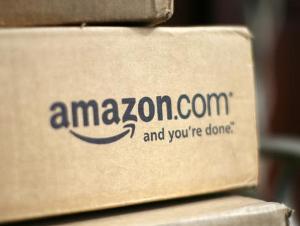 As we reported Friday, Amazon added a new tactic in its fight against Hachette for better terms: it stopped allowing customers to order many forthcoming titles and on surviving pages for unorderable books, it began advertising "similar items at a lower price." Apparently its algorithms have joined the fray.
Reaction from authors, agents and booksellers has been strong. On Friday, the Authors Guild issued a statement that began: "Blackmail works best. That seems to be Amazon's negotiating strategy, at least."

The statement continued in part: "Amazon's strategy is designed both to show its market dominance and to engineer a rift between Hachette and its authors. But is it working? In a letter to authors, Hachette CEO Michael Pietsch relates that 'it is extremely encouraging to see our retail partners--thousands of chain, online and independent bookstores--showing their support for HBG and its authors.' Despite Amazon's foul play, Hachette still boasts the #1 Hardcover Fiction and Advice/How-To titles, and two of the Top 10 Nonfiction books in the most recent New York Times bestseller list.

"Will Amazon's bullying ever backfire? Its suppression of availability dates back to 2010, when it removed the buy buttons from Macmillan titles while in a dispute with the publisher. Maybe this time around readers will realize what Amazon most wants us to forget: there are other stores in town.

"And while we hate to say it, we saw this coming.

"Two summers ago, when the five publishers teamed with Apple to take a stand against Amazon's e-book dominance, the Justice Department went after the publishers, not Amazon, implicitly sanctioning Amazon's monopoly and allowing anti-competitive tactics like this to continue."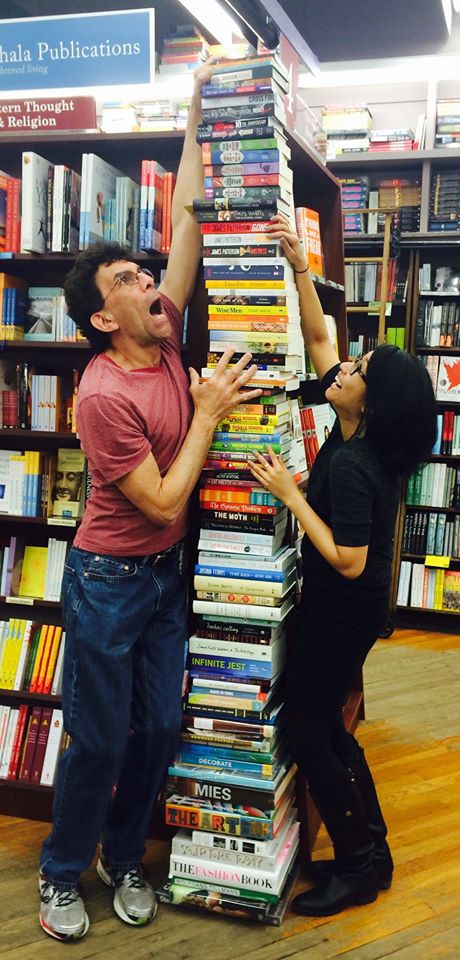 Booksellers at Brookline Booksmith, Brookline, Mass., "decided to see how many Hachette Book Group titles we could find in twenty minutes. Answer? Enough to create a towering pile. We're proud to carry Hachette books, and if the book you're looking for isn't in this pile, we'll pull it off the shelf or order it in for you ASAP."
---
Commentary in the general and trade German press has remarked on the near silence of publishers on both sides of the Atlantic about Amazon tactics, in contrast to the openness of authors and agents. (Although one significant difference between the Amazon situations in the U.S. and Germany is that Bonnier Group has stated that Amazon wants to increase its discount on Bonnier e-books from the usual 30% to somewhere between 40% and 50%.)
One legacy of the Justice Department's suit against Apple and five U.S. publishers over collusion in the e-book agency model--and a copycat European Commission action--is that publishers, never ones to talk about terms in public, have become even more tight-lipped as Amazon has become even more aggressive. As Buchmarkt columnist Gerhard Beckmann wrote: "Almost without exception, publishers are silent, like lambs in the woods, as if the wolf that is coming ever closer is a sheep."
---
Some observers are focusing on the old argument that e-books are cheaper to publish than printed books. As the Wall Street Journal wrote: "The backdrop to Amazon's push is that e-books generate much higher profit margins for publishers than print books, where the costs including paper, printing, binding, warehousing, shipping and returns. Bedi Singh, chief financial officer of News Corp., which owns HarperCollins Publishers and the Wall Street Journal, earlier this month told analysts that margins are around 75% for e-books, about 60% on paperbacks, and about 40% on hardcovers."
Taking a position that "we can leave it to the market to sort this out," Forbes said that ultimately the winner will be decided by consumers, who will decide what's more important: Hachette's books or Amazon's delivery system.

Forbes added that "the real economic story behind that lovely fight that's going on between Amazon and Hachette... is a battle between the people who make the product and the people who distribute it as to who should be getting the economic surplus that the consumer is willing to hand over. Like all such fights it's both brutal and petty....

"A demand that publishers must make 75% on e-books cannot be supported: they take more risk with physical books and yet gain lower margins on them. So we cannot say that as a matter of divine right the current publisher margins on e-books are correct. But equally, we can't say that Amazon deserves a greater piece of the action either. There's simply nothing to support such an assertion: after all, even Amazon isn't arguing that all people who sell e-books should get better margins if Amazon does. This is purely about who has the power in this relationship. Who, in short, has the economically scarce good here and thus ought to be gaining the profits from the transactions?"
---
Bloomberg Businessweek senior writer Brad Stone offered an unusual personal perspective on the dispute. Because the publisher of his Amazon exposé, The Everything Store: Jeff Bezos and the Age of Amazon, is a Little, Brown title, the paperback version of the book, due out in October, is "among the casualties," i.e., unavailable for pre-ordering.
He wrote in part: "It's difficult to avoid such rich irony. A book detailing Amazon's heavy-handed tactics in business negotiations has become, at least in a small way, a victim of those tactics.
"The more serious impact may be to Amazon itself. Jeff Bezos and crew have built 20 years' worth of customer trust and established a record of being a uniquely customer-focused company, willing to forego potential revenue when it jeopardizes the user experience. By making some books harder to find and harder to buy, it's damaging its reputation and alienating the broader community of authors.
"Amazon watches these public-relations tide winds carefully. A few years ago it relaxed its stance over collecting sales tax when it started to lose the PR war, particularly in California, where it was getting clobbered by a negative television ad campaign paid for by physical retailers. At the time Amazon was trying to establish its tablet, the Kindle Fire. Now Amazon has a new set-top box in the market and, perhaps, a coming smartphone. This bad publicity is the last thing it needs."
---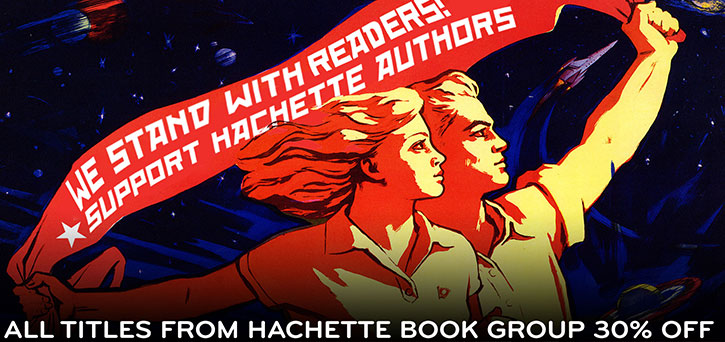 Noting that readers and writers are "caught in the crossfire," Zola Books is showing its "support of Hachette authors and their fans" by offering a 30% discount on all books published by Hachette, "available for immediate download for iPhone and iPad."
In an announcement, CEO Joe Regal added, "As one of the largest individual sellers of books in America today, Amazon has a tremendous amount of power over which titles get distribution--and they aren't afraid to use it. Unfortunately, their actions are damaging authors' abilities to get their books into readers' hands. Join us in showing support of those authors by buying a few of their books today; even though they are discounted to you, the authors still get their full payment."