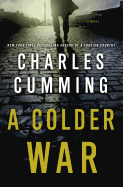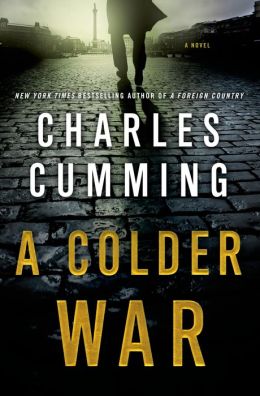 Thanks to recent violent upheavals in Ukraine, civil war in Syria and ongoing political protests in Istanbul, the setting for Charles Cumming's new spy novel should feel familiar--like something freshly posted on Twitter or broadcast on Al Jazeera. A sequel to his A Foreign Country, Cumming's A Colder War digs deeper into the lives of Britain's disgraced Secret Intelligence Service agent Thomas Kell and his boss Amelia Levene, the first female chief of MI6. When Paul Wallinger, SIS Head of Station in Turkey and Levene's occasional lover, dies off the small Greek island of Chios in the crash of a plane he was piloting, she brings in her trusted friend Kell for an off-the-books investigation. Was womanizer Wallinger with another woman? Was he working one of his assets? Was he perhaps leaking secrets to the Soviets? Or was the crash just bad luck or pilot error?
Kell is in professional no-man's-land while being investigated for an overzealous, post-9/11 terrorist interrogation. His long, rocky marriage has ended in divorce. He's drinking too much and has returned to smoking a pack a day. He's desperate to get back in the game. Levene's assignment is his life preserver, "a sign from the God in whom Kell still occasionally believed." A visit to Chios quickly convinces him that Wallinger's death is just one knot in a more elaborate tangle of duplicity among the Soviets and both the SIS and its "cousin," the CIA.
A former MI6 recruit before he began writing fiction, Cumming knows his John le Carré and Graham Greene as well as the language and bureaucracy of today's world of digital espionage. Like all good spook noir, A Colder War has plenty of spy slang, with cut-outs, moles, drops, honey traps, one-on-ones and other terms of the tradecraft permeating the narrative. It also includes plenty of globetrotting around Istanbul, Odessa, Kiev, London and the remote Turkish borders with Syria and Iran.
The author of six well-received international thrillers, Cumming has mastered the cinematic-spy-novel tricks of a split-screen plot and cameo characters who turn out to be pivotal players in the drama (English actor Colin Firth has optioned film rights to both Kell novels). Throw in a hot love affair between Kell and Wallinger's daughter, and A Colder War has plenty going on to help you while away the last days of summer. Even more, it is a smart representation of an underground world we might have thought disappeared with the Cold War--until Edward Snowden, Julian Assange and deadly drones came along. --Bruce Jacobs, founding partner, Watermark Books & Cafe, Wichita, Kan.
Discover: Charles Cumming's second Thomas Kell thriller continues the le Carré tradition, with a cast of Soviet, British and American spies one-upping each other around the Black Sea.