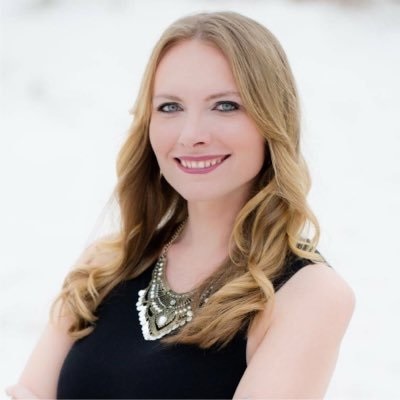 Meredith Wild
It started four years ago as a self-publishing venture, a way for an aspiring romance author to publish her books and find an audience. Although the books did well, Meredith Wild found it difficult to get the placement and promotional opportunities traditionally published authors received. So, in 2014, she added a name--Waterhouse Press--thinking that would make it easier to gain access to e-tailers, retailers and the press. Having a name helped, but what mattered more was what Wild calls her "sheer tenacity of knocking on doors until people would listen" that got the company noticed.
In the meantime, Wild built Waterhouse Press into a true publishing house, and it's blossomed so much that now it has eight staff members besides Wild, handling everything from acquisitions and editorial to production, marketing and publicity. Waterhouse continues to publish books by Wild but has expanded and now has a stable of a dozen writers who it's publishing in some unusual ways, with a focus on creating brands and expanding their markets.
The most striking new venture of Waterhouse Press is the Misadventures series, whose first title, Misadventures of a City Girl by Meredith Wild and Chelle Bliss, appeared last month and whose second title, Misadventures of a Good Wife by Meredith Wild and Helen Hardt, appears today. (More on the first six Misadventures titles below.)
The books are "short, sexy reads," Wild says, stand-alone titles that "hopefully readers would enjoy reading as much as we enjoyed writing." She's also described them as "Golden Books for adults" and says that "fun" is a key element, making the books "the perfect bedside read, a 'quick blush' for the reader who loves a page-turning romance."
They're the first titles Waterhouse Press is publishing in hardcover; other titles have been published in trade paperback, and overall sales have been overwhelmingly digital. (The company's print distributor is Ingram Publisher Services.)

The series has its origin in what Wild calls "a casual and extra steamy writing project" she began with author friend Mia Michelle. (The pair's Misadventures of the First Daughter appears October 30.) "We had no formal plans to publish the story, but we had so much fun writing it that it gave me the idea that other authors might want to join in," she says.
Wild has chosen each of the authors who are writing for Misadventures, based on works by them that she's read and loved.
Continuing the approach she took with Mia Michelle, Wild has written several of the Misadventures books with other authors. The process is "incredibly fun," she says. "Writing with a friend takes some of the pressure of plotting away, because there's always an element of surprise when I get a chapter back and have to figure out where to take the store next."
The Misadventures series will continue next year, with seven more titles slotted for the spring season. They include three books by authors who have fall Misadventures titles: Lauren Rowe (College Girl), Angel Payne (Time Traveler) and Helen Hardt (Rockstar). In addition, Kendall Ryan, Toni Aleo and Elizabeth Hayley (the pen name for a pair of friends named Elizabeth and Haley) are also contributing title. Meredith Wild is also writing a new story on her own, called Misadventures of a Virgin, which will be released in January.