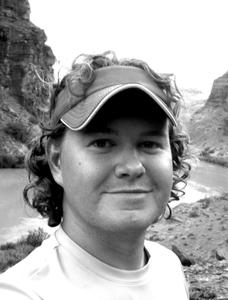 Nathan Hale
Nathan Hale is the author and illustrator of the Eisner-nominated, New York Times bestselling graphic novel series on American history, Nathan Hale's Hazardous Tales. He is the illustrator of the graphic novel Rapunzel's Revenge and its sequel, Calamity Jack. He also illustrated Frankenstein: A Monstrous Parody, The Dinosaurs' Night Before Christmas and many others. Visit him at www.nathanhaleauthor.com.
The 75th Anniversary edition of Johnny Tremain includes new jacket art and an illustrated foreword from Nathan Hale.
Tell us about your role in this 75th anniversary edition of Johnny Tremain.
I was asked to create a foreword for the new edition and, because of my background in graphic novels, we made it a comic.
How did you come to this project?
I love this--the editor on the project was introduced to my work by her son. He's a young fan of my Hazardous Tales series.
What made you interested in being a part of the new edition of Esther Forbes's novel?
I've always been a fan of the book, studied it in school, even watched the old Disney movie in class. When HMH invited me to do a foreword, I jumped at the chance. It's a classic. And to be part of the 75th anniversary is a big honor.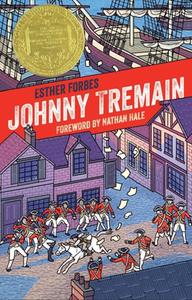 Did you do anything specific to get yourself into a Johnny Tremain-type mindset?
I was already in a revolutionary war mood. I was working on Johnny Tremain at the same time I was writing and illustrating Hazardous Tales #8, which is about Lafayette.
I really enjoyed listening to the Johnny Tremain audio book as well as doing a reread.
Is there anything more you'd like to tell our readers?
I'm hoping the comic foreword will pull readers in--not just into the book, but into the habit of reading forewords.
I've read things in forewords that have not just enhanced the story for me, but stuck with me as I read other books. A few good forewords at a young age have made me a lifelong foreword reader.