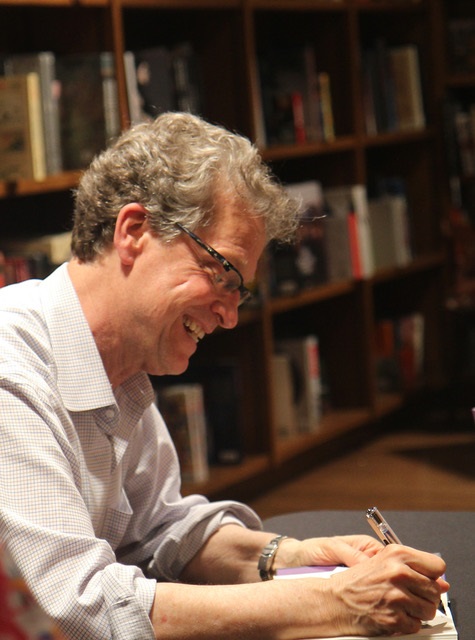 photo: Dave Barry
Edgar nominee and Fulbright Fellow Ridley Pearson is a #1 New York Times bestselling author of more than 50 award-winning suspense and young adult adventure novels. His novels have been published in two-dozen languages and have been adapted for network television and the Broadway stage.
Tell Shelf readers about Super Sons: The PolarShield Project.
What happens when you're in middle school and you wake up one morning to realize your father is not just a great guy, he's Superman... or Batman? In Super Sons: The PolarShield Project, the first installment of a multi-part series, this is the emotionally confusing world in which Jon Kent and Ian Wayne find themselves. The physical world they inhabit is coming of age: global climate disruption is creating waist-deep flooding in the city and refugees are on the move. Millions are relocating from Metropolis and Gotham and crowding inland. The country of the Freeland is in chaos.
Wayne Enterprises, responsible for most of the levies protecting the coastal cities, is under a public relations attack: the levies have failed. Bruce Wayne's headquarters is set on fire by an angry mob. Young Ian, who has never won his father's confidence, struggles to prove himself worthy.
With Superman off-planet to try to help a global scientific effort to shield the polar caps from warmth, and Lois Lane, Jon's mother, target of a biochemical assassination attempt, it's up to Jon to solve the crime and save his hospitalized mother.
When a young woman from the continent of Landis ends up in the boys' relocated city, things get interesting. Candace is in line to be crowned empress of all of Landis, but there are four warriors her same age also vying (as a group) for that revered title. With Candace under threat, and only now just discovering extraordinary powers she has trouble believing, the trio finds they are stronger together than as individuals. Let the games begin.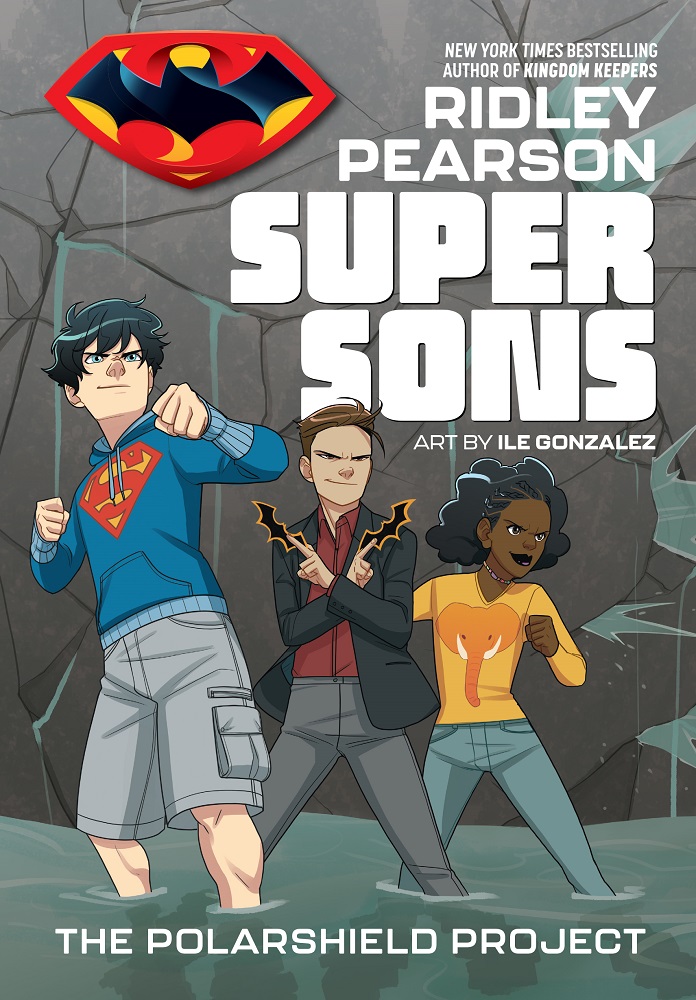 How did this story develop? Why these super sons?
DC gave me free rein to create a new Super Sons world. I was to start from scratch and find a way to work multiple plot lines in a middle-grade readership, unbound by previous Super Sons history. That liberty allowed me, encouraged me, to "world build." I spent over four months creating a physical, global, political and school life world before starting any plotting. I focused on "character first," defining character arcs for Ian, Jon and Candace, for each book and the series writ large.
How does writing a graphic novel differ from writing a novel?
Writing graphic novels is TRICKY! This was a first for me, and a major reason for my interest in the project. A graphic novel is written as a script--a convention I enjoy writing. My DC editors took me on a crash course of effective writing. I read a dozen graphic novels, taking notes throughout, and threw myself into it. I had a big ah-ha moment while reading Amulet by Kazu Kibuishi, when I saw the power of telling story through images--to allow the artwork to tell the story first and use dialogue as icing on the cake. With Super Sons, I'm partnering with the artist Ile Gonzalez. Ile is the one "telling" the story with her panels. She works from and amplifies material I provide her. It is so magical to write and write and then see your words come alive under a skilled and creative hand. My role is akin to the "director," Ile, the "cinematographer."