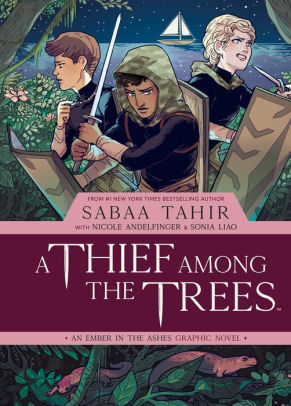 A Thief Among the Trees by Sabaa Tahir and Nicole Andelfinger, drawn by Sonia Liao (On Sale Now)
In A Thief Among the Trees, the first volume in a new graphic novel prequel trilogy, readers return to the world of Sabaa Tahir's bestselling YA series An Ember in the Ashes. The story follows Elias, Helene and Tavi, Fivers training at the Blackcliff Academy to become elite military recruits for the Martial Empire.
The trio is sent on a dangerous mission to Isle South to steal a heavily-guarded poison. They quickly find themselves facing plenty of surprising foes, including other Martial Empire recruits. As they try to complete their mission, Tavi, Helene and Elias will uncover some shocking truths about the Martial Empire and make difficult choices in order to survive.
When it came to writing A Thief Among the Trees, Tahir said she wanted to explore the themes of friendship, sacrifice and choices. The most surprising part of the process, she found, was how much fun it was to work as a team. Writing An Ember in the Ashes was generally "a very solo process," she explained, and at most she collaborated with a single editor. But working with writer Nicole Andelfinger on the script and artist Sonia Liao on the art "was a joy."
"It forces your brain to work in an entirely different way," said Tahir, who had not previously written a story for a graphic novel. "Some stories are best told through prose, but this kind of story, which to me was both heavy on action and emotion, needed very strong art and a strong script. Working on it forced me to be a better storyteller and I loved that."
While A Thief Among the Trees is Tahir's first foray into writing comics, she's been a reader of comics since childhood. She grew up in the Mojave Desert, at her family's 18-room motel, and occupied her time by reading fantasy novels, stealing her brother's comics and playing guitar. She began writing while working nights as a newspaper editor.
Nicole Andelfinger has written for several comic book series from BOOM! Studios, including Jim Henson's Dark Cyrstal: Age of Resistance, Adventure Time, Regular Show, Rugrats and Steven Universe, and she's also worked on the Munchkin series from Simon & Schuster. Andelfinger called the story Tahir told in An Ember in the Ashes "truly inspiring," and said it was an honor and a dream to collaborate with Tahir and Liao, but also "a bit nerve wracking" to work on a prequel to a bestselling book series.
"You never want to be the person who comes into the sandbox and accidentally tips it over!" remarked Andelfinger. "But between our editors at BOOM!, Sabaa's clear story direction and Sonia's amazing ability to make words into pictures, I feel like we did good by Ember."
And noting that while "everyone's mileage will vary," Andelfinger said her takeaway from story of A Thief Among the Trees was "a reminder to always examine systems and to question the intent, and to challenge yourself on your own beliefs."
Based in Westford, Mass., Sonia Liao earned a BFA in Illustration from Maryland Institute College of Art and has worked for publishers like BOOM!, Sourcebook Fire, Red 5 Comics and Global Tinker. Liao praised the "rich world and history" of the Ember in the Ashes series, and pointed out that while A Thief Among the Trees is set on a single island, readers can tell from the story, as well as the varied worldviews and backgrounds of the three main characters, that "there's a greater world beyond."
Liao called the graphic novel a "fun, adventurous story with plenty of character. The world it introduces readers to is clearly vast and complicated, but still relatable through the filter of each character's eyes. It's definitely the kind of book I'd check out from the library in middle or high school."
Tahir added that any reader can enjoy A Thief Among the Trees without having read An Ember in the Ashes, and she feels it would make a great read for anyone from reluctant readers to "graphic novel pros."