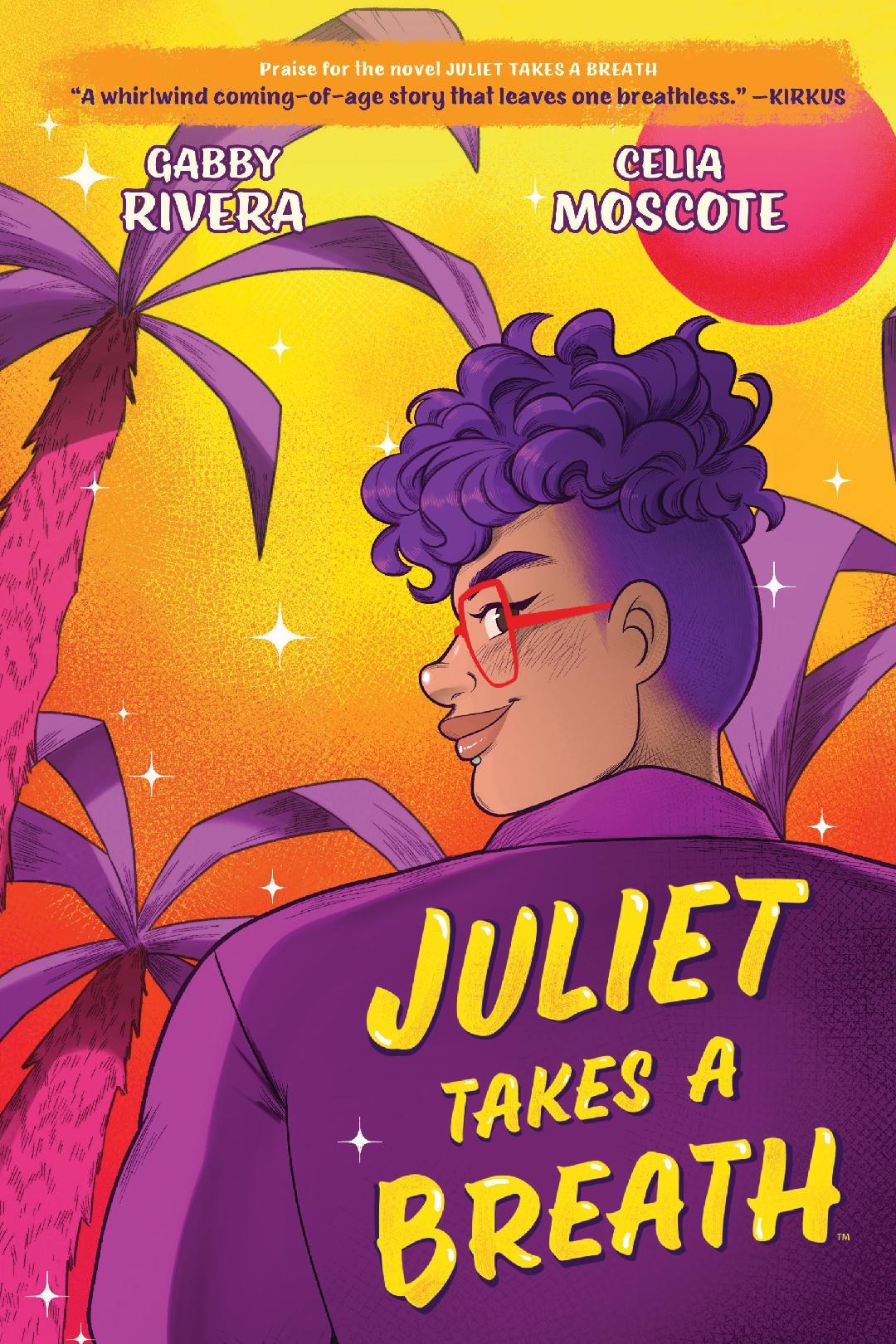 Juliet Takes a Breath by Gabby Rivera, illustrated by artist Celia Moscote and colorist James Fenner (BOOM! Box, November 2020)
In Juliet Takes a Breath, critically acclaimed writer Gabby Rivera adapts her bestselling novel into a graphic novel that tells a striking queer coming-of-age story exploring race, identity and what it means to be true to your amazing self, even when the rest of the world doesn't understand.
Juliet Milagros Palante is leaving the Bronx and headed to Portland, Oregon. She just came out to her family and isn't sure if her mom will ever speak to her again. But don't worry, Juliet has something kinda resembling a plan that'll help her figure out what it means to be Puerto Rican, lesbian, and out. See, she's going to intern with Harlowe Brisbane--her favorite author, whose latest book on feminism and finding power in your body has Juliet ready to stomp the patriarchy and fall forever in love with herself. There's just one problem--Harlowe's clueless, not from the Bronx, and doesn't have the answers. Okay, maybe that's more than one problem but Juliet never said it was a perfect plan...
"I'm so excited to be working with BOOM! Studios on the Juliet Takes a Breath graphic novel," Rivera said. "We're blasting new energy into the story and lush colors all over the page. Get ready for a Juliet Milagros Palante who's gayer, chubbier, and more confident than ever before."
Born in the Bronx and living in California now, Rivera is a queer Puerto Rican author whose mission, she said, is "to create the wildest, most fun stories ever." She's the first Latina to write for Marvel Comics, penning the solo series America, about America Chavez, a portal-punching queer Latina powerhouse. Rivera's critically acclaimed debut novel Juliet Takes a Breath was published in September 2019 by Dial Books and called "f*cking outstanding" by Roxane Gay. (Penguin Books is publishing the paperback in March 2021.) Currently, Rivera is the writer and creator of b.b. free, a new original comic series with BOOM! Studios, and her podcast joy revolution is coming soon. When not writing, she speaks on her experiences as a queer Puerto Rican from the Bronx, an LGBTQ youth advocate, and the importance of prioritizing joy in QTPOC communities at events across the country. She added that she writes "for all the sweet baby queers, and her mom."
Celia Moscote, a storyboard artist and illustrator in the Los Angeles area best known for their work on the animated film Tina and the Gucci Flip Flop, as well as their representation of diverse characters within their zines, comics, and character designs, commented that working on Juliet Takes a Breath has been "such an amazing experience, I'm really glad that I got so lucky to work with such wonderful people on my first big graphic novel. I cried when I first read it! It's a story I wish I had when I was first trying to navigate the world. Being able to relate some of my own personal experiences to Juliet's really helped me as well, and I wish that for any artist working on a graphic novel because it made me love the job so much more. It's an absolute honor to be able to bring such an amazing cast of characters to life. Family drama, sexual re-awakenings and a bunch of incredibly smart and hot women--what more could you ask for?"
Shannon Watters, Editor, BOOM! Studios, added, "Juliet Takes a Breath is such an important novel about coming of age and coming out so it's been a wonderful experience to be able to live in this world and relive this story as we adapt it into a graphic novel. We are very excited to be working with Gabby and Celia to create this graphic novel that will introduce new readers to Gabby's powerful writing and Celia's incredible illustrations, while giving longtime fans a beautiful new version to discover."