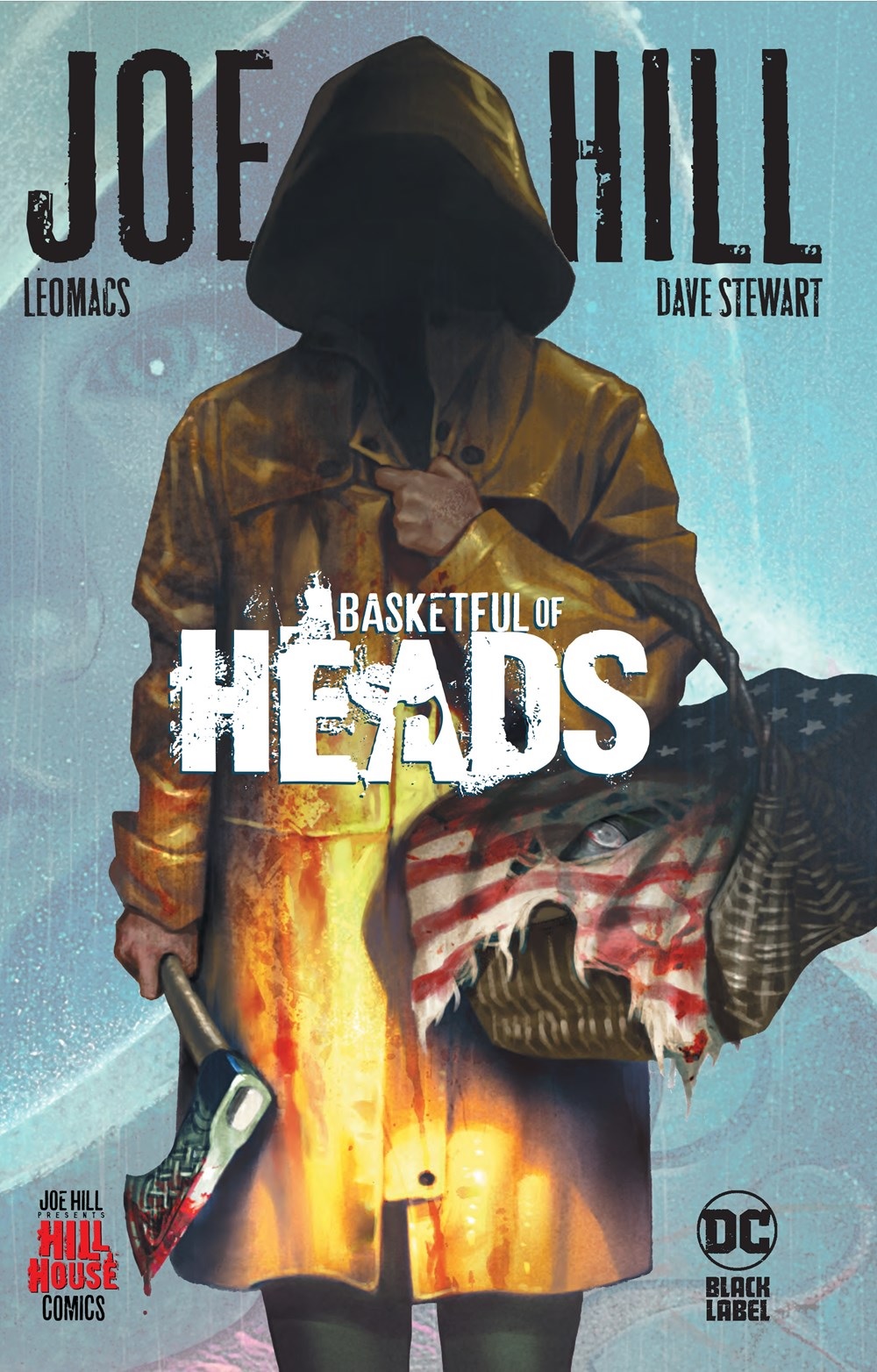 Basketful of Heads. Written by Joe Hill, art by Leomacs, covers by Reiko Murakami ($24.99, 9781779502971, September 8).
Basketful of Heads begins with a pleasant premise: it's 1983, and June Branch goes to Brody Island to visit her boyfriend, Liam, for a relaxing last weekend of summer. But an escaped group of criminals breaks into the house that June and Liam are watching, and they take Liam away. During the attack, June grabs a strange Viking axe and flees. When one of the attackers finds her, she swings the axe and takes off his head, which rolls away and begins to babble in terror. For June to uncover the truth, she needs to hear the facts straight from the mouths of her attackers, with... or without their bodies attached.
Joe Hill says he wanted this first Hill House Comics title "to be insane, WTF, relentless reading: to script something that would blast along like an 18-wheeler going downhill with no brakes. These days, there's so much entertainment out there, there's so much distraction--if you want to cut through the noise, you've got to come out with both guns blazing. You have to do your best to deliver something that'll keep the reader flying through the pages."
He adds that it was fun writing Basketful of Heads "probably because I so like spending time with June," the main character. "She's bright and sunny and open--someone we can love, someone we can root for--who also happens to be as flexible and sharp as a fencing blade. Her beloved, Liam Ellsworth, is snatched away by a gang of desperate men, for reasons she doesn't understand. She finds herself pursuing them with an eerie, occult axe and her own unique understanding of human nature. I won't say which I think is the more valuable asset."
He's also enjoyed working with artist Leomacs, who understands that "even though this is a dark, suspenseful story, we're also setting out to have some good, gory, stomach-turning fun. He brings an anarchic, subversive energy to every panel. It's everything I was hoping for, and then some. I really wanted to tell a tale that was tense, funny, and unrepentantly grotesque--think of pictures like Re-Animator and Evil Dead 2. 'Tense, funny, and unrepentantly grotesque' is Leomacs's sweet spot."