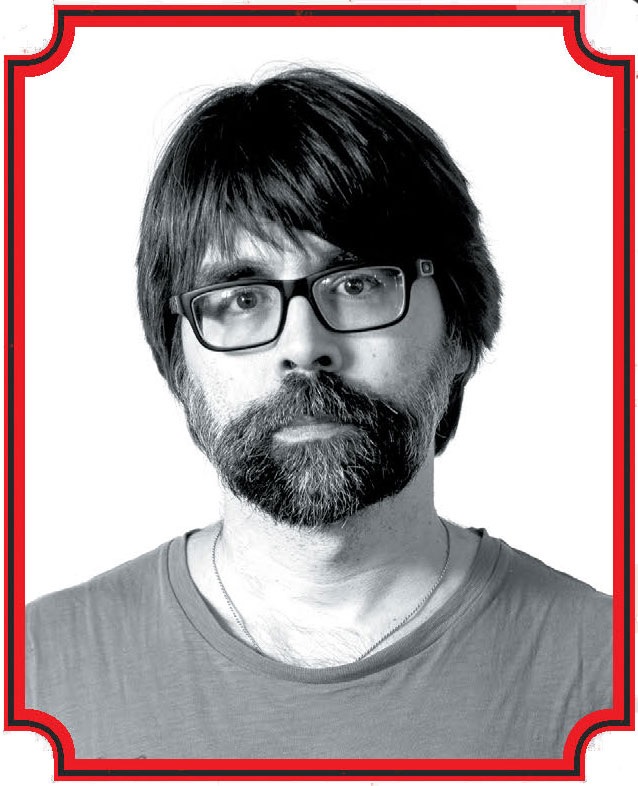 Joe Hill
DC's Hill House Comics is a new line of original, cutting-edge horror graphic novels that is being curated by horror writer Joe Hill, who is also the author of two of the first five titles from the imprint. With works by some of the biggest names in horror storytelling, Hill House Comics aims to terrify readers with a smart, subversive and scary lineup, each with a slightly different flavor of horror.
Joe Hill, of course, is the author of many bestselling horror titles. including The Fireman and Heart-Shaped Box; Horns, which was made into a feature film starring Daniel Radcliffe; NOS4A2, which is a forthcoming TV series from AMC; the story collection 20th Century Ghosts, winner of the Bram Stoker Award and British Fantasy Award for Best Collection; and Strange Weather, a collection of novellas, published three years ago. His long-running comic book series Locke & Key, featuring the art of Gabriel Rodriguez, won him the Eisner Award for Best Writer.
The first five titles (details below) begin appearing next week: Basketful of Heads written by Joe Hill and art by Leomacs will be published on Tuesday, September 8. The Low, Low Woods appears on September 29 and is written by Carmen Maria Machado, with art by Dani. The Dollhouse Family written by Mike Carey with art by Peter Gross will be published on October 13. Daphne Byrne, written by Laura Marks with art by Kelley Jones, appears November 3. And Plunge, written by Joe Hill with art by Stuart Immonen, will be published November 17.
The idea for Hill House Comics goes back at least to 2016 when Joe Hill and Mark Doyle began talking about "me taking a dip in the Sandman Universe," Joe Hill says. "Eventually, though, we started talking about how the last few years have represented a kind of golden age for horror. Every year brings a new wave of smart, expertly crafted films in the genre, like It Follows and Get Out; the streaming channels are having a horror gold rush with shows like Lovecraft Country and The Haunting of Hill House; a new generation of brilliant horror writers (most of them women) are making scare with shockers like Sarah Pinborough's Behind Your Eyes and Catriona Ward's forthcoming The Last House on Needless Street. I wanted comics to get into the action and Mark said why not?"
Asked about elements the first five Hill House Comics graphic novels share, Joe Hill says, "This was something all of us talked about: taking these very different stories and finding little ways to bind them together. On a visual level, there's a shared color palette, which I sometimes describe as 'three drops of blood stirred into cream.'
"On the level of narrative, I've foisted my almost certainly ridiculous ideas about story math on all the writers. They miiiiiight also be shared universe? Certainly there are narrative connections between some of these tales, although I've sworn not to give away any details."
To say Joe Hill has enjoyed working on Hill House Comics is an understatement. "There were a lot of highs," he says. "I don't know that I could just pick one. Reading the script for Carmen Maria Machado's first chapter of The Low, Low Woods, which was like drinking a perfectly made old fashioned. The page where Daphne Byrne literally feeds a predator his own hand. A masterfully grotesque image, dreamt up by Laura Marks, and executed with a delicious lack of restraint by Kelley Jones. Leomac's light touch with a character moment, his ability to find a comic tenderness in a woman lifting a supernaturally animated severed head and wiping away the snot under his nose. M.R. Carey's calm, disciplined mastery. Every time Stuart turned in a new page. The way David Stewart colors a shaft of light falling through a murky cloudscape. Oh, oh, oh! And we did a back-up feature about werewolves winning the revolutionary war. For some reason every single page artist Dan McDaid turned in made me laugh, especially when he began flinging around the gore. I can't explain it. The dude just made me cry with laughter."
Joe Hill hopes that booksellers and librarians understand their key role in the comic book world, saying, "It's more important than ever that booksellers and librarians pick up the banner for comic books--the artform has never needed their support more. The vast majority of comic lovers never set foot in a comic shop! They discover their next favorite read at the library or their local indie bookstore. Think of the graphic novel section as the punk rock section in a record store. For a certain kind of reader, graphic novels are a shot of adrenaline mixed with a shooter of validation... they're confirmation that it's okay to have a head whirling with ideas about horror movies and superheroes and the permeability of reality.
"As for the Hill House imprint, these are good stories for people who love Stranger Things and Sandman, who want a rush in the dark that ends with a scream and a shout of laughter."