Since the beginning of the pandemic, Binc has been aided by a wide range of people, companies and organizations in the book industry to raise money for Binc to distribute to stores and booksellers. "It was everyone: store owners and booksellers, publishers and authors, book lovers," Pam French says. "And we didn't have to ask anybody to donate or help. They came to us. It was a humbling experience to have supporters come to help book people during this time."
These fundraising efforts included authors who hosted online events and gave a percentage of their book revenues; sales of T-shirts, socks and hats; creative videos; pledges for runs and other events. Altogether there were more than 100 "third-party" fundraisers, which raised some $1.4 million for Binc. Among those efforts: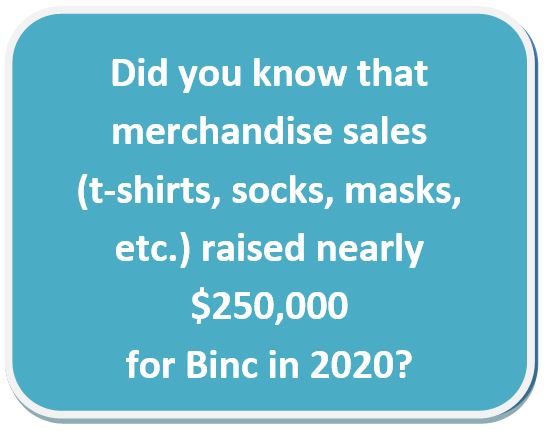 A donation from HarperCollins that was one of the first pandemic-related gifts. As French recalls, "In March, [HarperCollins president of sales] Josh Marwell called and said Harper was sending a check 'because you guys are going to need it.' "
The publication last September of Alone Together: Love, Grief, and Comfort During the Time of Covid-19, an anthology of essays, poems and stories from 90 contributors, edited by Jennifer Haupt, raised $40,000 for Binc. Publisher Central Avenue Publishing donated $20,000--all profits from the book--and its distributor, Independent Publishers Group, waived its distribution fee and donated another $20,000 to Binc.
Last August, Chuck and Dee Robinson, former owners of Village Books, Bellingham and Lynden, Wash., held an online auction of some of their own books, including first editions, many of which were signed, as well as ARCs and book ephemera. The auction raised $12,000 for Binc. (Chuck is a Binc board member and has been a longtime major Binc supporter, and earlier did two fund-raising long-distance bike rides.)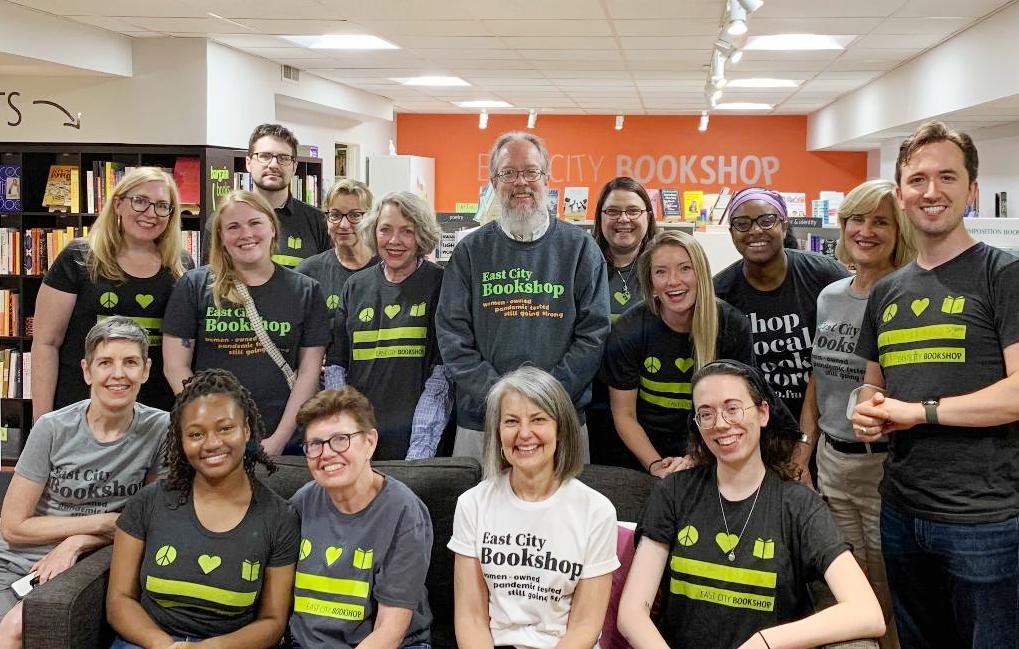 East City Bookshop, Washington, D.C., received a Binc Survive to Thrive grant.
The Center for the Art of Translation and Two Lines Press donated 50% of all contributions to their Spring 2020 fundraiser to Binc. The initial goal was to raise $30,000, with $15,000 going to independent booksellers.
Others setting up matching grants to benefit Binc included Steven Malk, a literary agent at Writers House, who matched every gift dollar for dollar up to $7,500, and Beacon Press, which offered a $5,000 matching grant.
In March 2020, Abrams launched the #HelpABookseller campaign, aiming to raise $100,000 for Binc. Major Abrams authors, including Jeff Kinney, Henry Winkler, Andrea Beaty, Gaby Dalkin and Laura Prepon, joined the effort.
Libro.fm held a #SocksforBinc campaign in April 2020, which raised $28,731 for Binc after 3,858 pairs of socks were sold. More than 1,300 people participated. The effort was done in connection with virtual Indie Bookstore Day, and involved a group of illustrators, authors and designers who created 10 designs for pairs of socks that it sold to book lovers. The minimum price for a pair was $15, and buyers were encouraged to add donations to the basic price.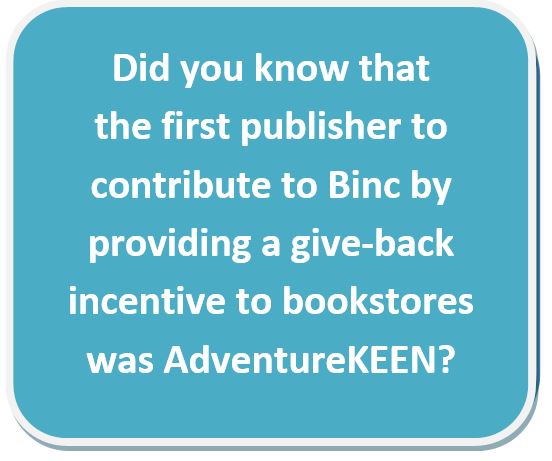 In terms of numbers raised, most notably:
In April 2020, the first full month of pandemic lockdowns and other strict measures, in partnership with Binc and the American Booksellers Association, James Patterson launched #SaveIndieBookstores, donating $500,000. At the time, he said, "I'm concerned about the survival of independent bookstores, which are at the heart of main streets across the country. I believe that books are essential. They make us kinder, more empathetic human beings. And they have the power to take us away--even momentarily--from feeling overwhelmed, anxious, and scared."
More help for #SaveIndieBookstores came from Rick and Becky Riordan, who offered a matching grant of $100,000, and some regional booksellers associations also had matching grants. John Grisham and Stephen King appeared in conversation on King's YouTube channel to talk about their new books and promote #SaveIndieBookstores. Reese Witherspoon touted #SaveIndieBookstores on her book club. Europa Editions held "Our Brilliant Friends," an after-dinner book club and watch party that met weekly on Zoom, an hour before the airing of HBO's adaptation of Elena Ferrante's Neapolitan quartet. Tickets were available for a suggested donation of $5, with all proceeds going to #SaveIndieBookstores. A group of YA authors held SIB-YA After Dark, an hour-long Twitter Ask Me Anything in support of #SaveIndieBookstores. The event was emceed by Isaac Fitzgerald, and participating authors included Elizabeth Acevedo, Mary H.K. Choi, Maureen Johnson, Alex London, Jason Reynolds, Phil Stamper and Nicola Yoon. Coordinating with Binc and the ABA, a group of independent publishers that included Archipelago, Beacon, ECW, Grove Atlantic and Steerforth, held a Bookscan Challenge, donating a percentage of sales on selected backlist titles, which raised $14,000 for #SaveIndieBookstores.
In a month, #SaveIndieBookstores raised more than $1.2 million from more than 1,800 donors.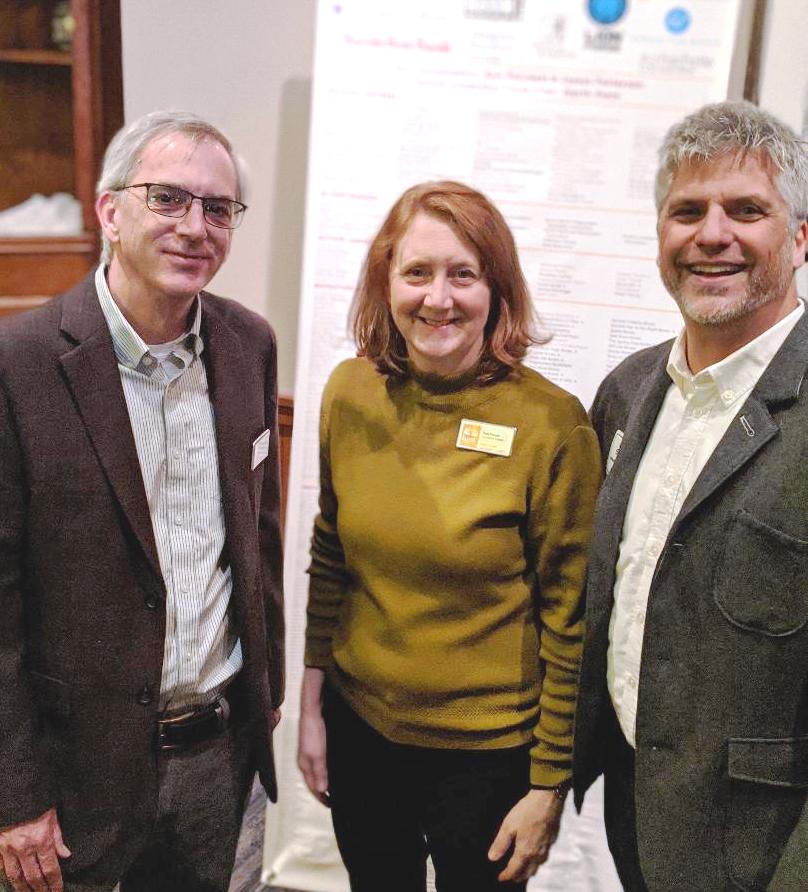 Binc board president and Arcadia Publishing COO Matthew Gildea, Pamela French and Garth Stein, chair of Binc's Author Leadership Circle Campaign.
The Survive to Thrive Campaign launched this past March with initial grants of $500,000 from Ingram Charities and Ingram Content Group, and major gifts from Bookshop.org, Hachette, HarperCollins, Macmillan, Penguin Random House and Simon & Schuster. When the campaign began, John Ingram, chairman of Ingram Industries and Ingram Content Group, said, "As we all turn our attention toward getting to the other side of the pandemic, I want to be sure local bookstores--gems of their communities--have a chance to not only survive, but thrive. Bookstores are the lifeblood of local communities--their success is our success."
In addition to the initial gifts, 12 authors and creators, led by Garth Stein and Amor Towles, made a combined $40,000 matching gift, which helped raise another $55,000. And An Unlikely Story bookstore in Plainville, Mass., owned by Jeff Kinney, held a benefit auction. Altogether the campaign raised $1.1 million to help 115 independent bookstores and comic book shops stabilize and recover as the pandemic slowly recedes. A jury reviewed applications, and this month Binc is sending $10,000 each to 99 stores and $7,500 each to 16 more.