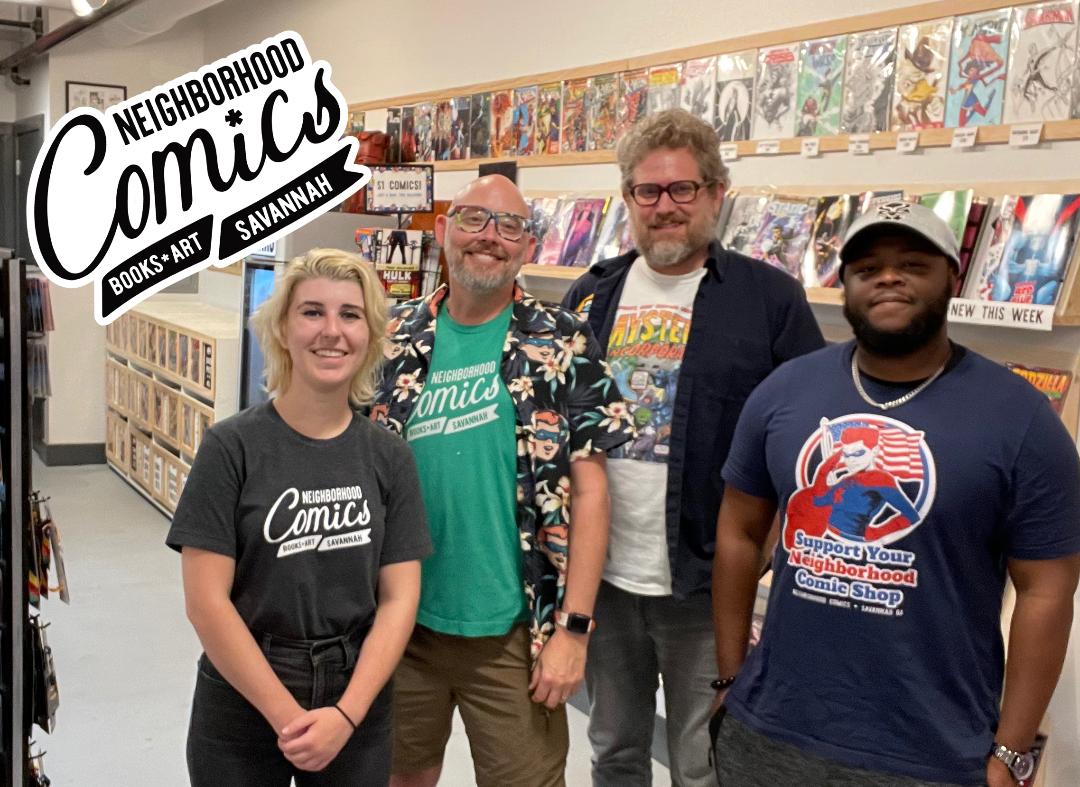 Neighborhood Comics in Savannah, Ga., received a Binc Survive to Thrive grant.
When the pandemic hit last year, the comic world responded immediately and resoundingly. "We found out just how creative the comic community is," Pamela French says. "These folks can fundraise like nothing else. They came together in incredible ways."
Their pandemic relief efforts focused on the Comicbook United Fund, which was funded by Creators 4 Comics (founded by Sam Humphries, Kami Garcia and Gwenda Bond), Jim Lee, DC, Polarity (formerly Oni-Lion Forge Publishing Group) and others. It grew out of the Forge Fund, which Polarity established in 2019 with a donation to Binc of $100,000. Then DC added another $250,000 to the fund, and last year the fund became the Comicbook United Fund.
Artists, authors, comics creators and other supporters joined in the fundraising. Their efforts included more than 600 auctions on Twitter. Jim Lee, publisher and chief creative officer of DC, began auctioning 60 original sketches in 60 days on eBay and raised $800,000. Bill Schanes founded the Give Comics Hope initiative. And early this year, Binc teamed up with George Beliard and the Hero Initiative--a longtime charity for comic book creators, writers and artists in need--to host "Double Vision" auctions. This campaign has featured new art from major creators and raised more than $140,000, which has been split between Binc and Hero Initiative.
The results were striking. The Comicbook United Fund raised $950,000 in April and May 2020. Binc distributed amounts ranging from $800 to $2,400 to 637 comic book shops across the U.S. and U.S. territories. In addition, in the first months of the pandemic, Binc distributed another $174,786 to 156 comic retail employees and owners to help with rent, mortgage, utilities, food and other necessities.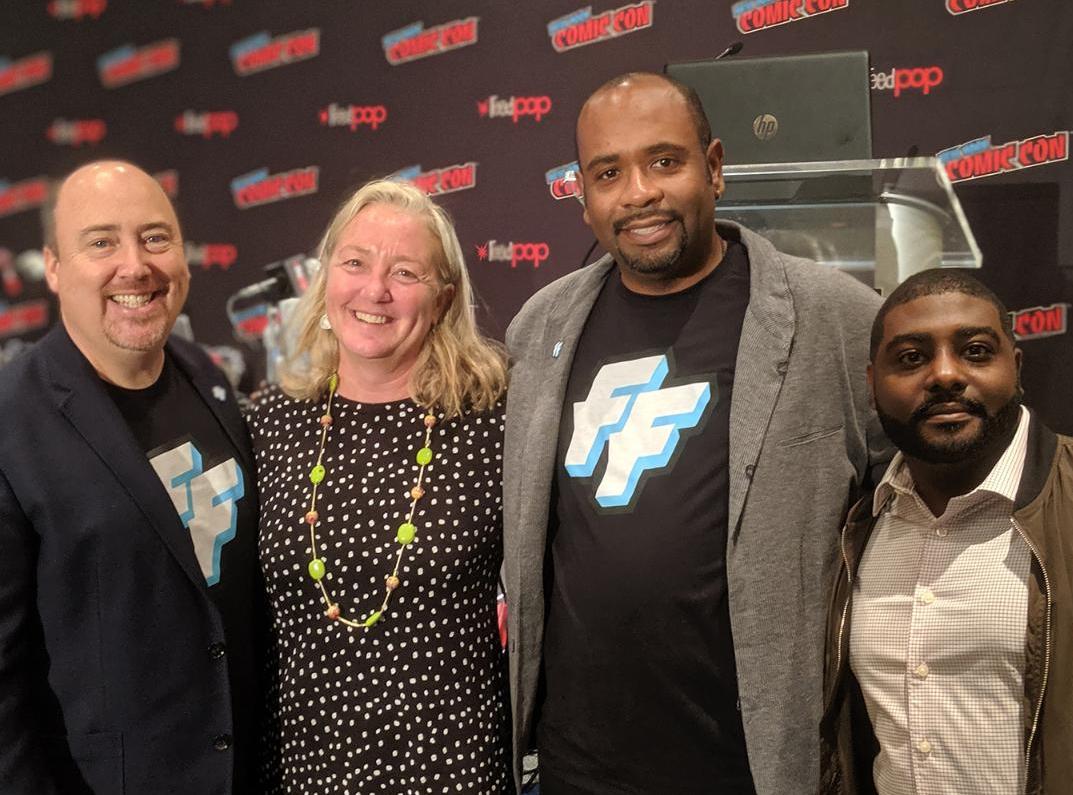 Celebrating the Forge Fund: (l.-r.) Rick Johnson, Polarity; Binc board member and bookseller Annie Philbrick; David Steward II, Polarity CEO, and Devin Funches, Polarity
"We created the Forge Fund in 2019, not even knowing the world was going to change in 2020. We put it in place at just the right time," David Steward II, CEO of Polarity, comments. "At the end of the day, our industry is built on these mom and pop stores, on this foundation of individual entrepreneurs. We wanted to make sure they knew there was some support out there for them. My hope is that we can coalesce as an industry around these businesses that have been supporting us and have been the backbone of the industry for so long."
YA and children's author Gwenda Bond recalls that #Creators4Comics "grew out of a group of us who were desperate to find some way to help comic shops and independent bookstores at the beginning of the pandemic. Author Kami Garcia got the ball rolling by asking several of us if we thought we could put together an effort that could help and what it might be. I had kept an eye on the twitter auction for the Australian wildfire relief efforts and thought it was a brilliant, easy model. Sam Humphries had noticed Jim Lee's fundraising for Binc, and I was familiar with them too, so we knew who we could raise the funds for. We pulled in Brian Michael Bendis and Phil Jimenez, comics legends, and then we just started contacting everyone we collectively knew or could e-mail or DM to ask them to donate items and participate."
The effort took off much faster than the group anticipated, Bond says, "and we were lucky to bring on other volunteers to help us keep things running smoothly. The sheer enthusiasm was breathtaking. Our small volunteer run effort was embraced, we feel, because so many creators and authors were desperate for something to do--just like us. We were able to raise more than $437,000 in five days through pure generosity on the part of the community of creators, authors, and fans."
Bond, Garcia and Humphries received San Diego Comic-Con's Clampett Humanitarian Award for #Creators4Comics last year. Bond notes that while receiving the award was an honor, it was "not nearly as special as feeling that we were able to give back to the places that made us, that help get our work and the work of others into the hands of readers, and without which the book world would be a grim place."