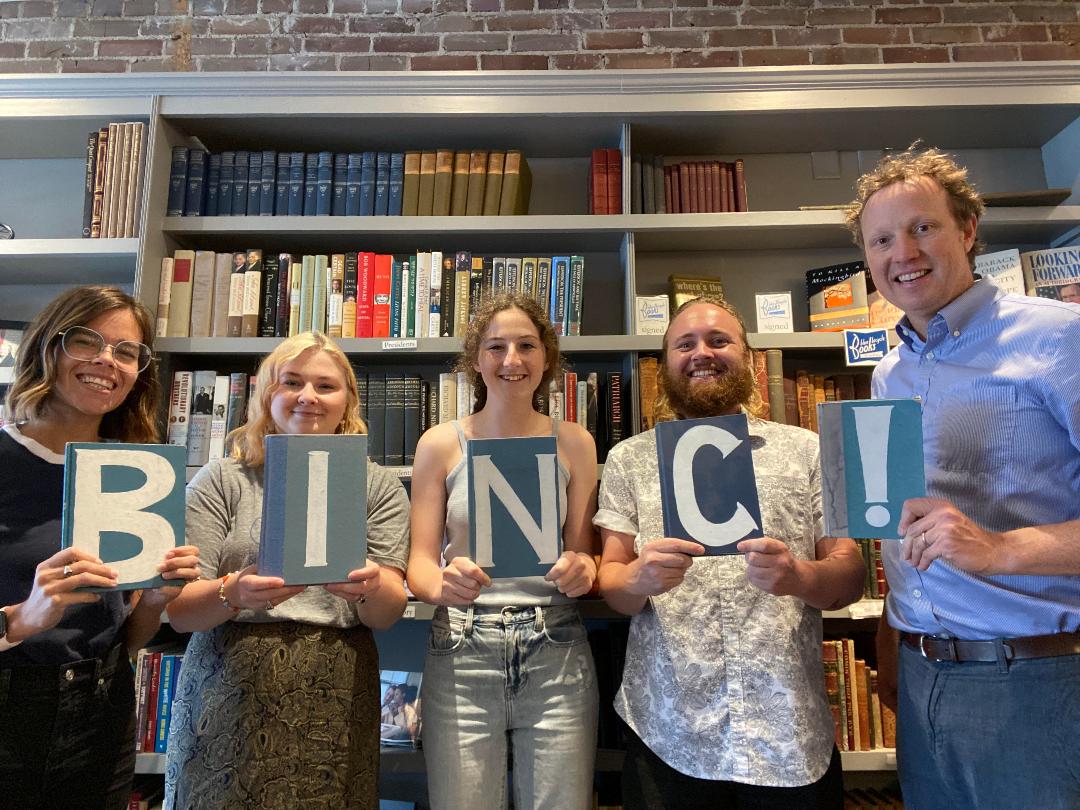 Strive to Thrive: staff at grant recipient Blue Bicycle Books in Charleston, S.C., celebrate Binc.
Note: Confidentiality is a core component of any assistance Binc provides, so the names of the following booksellers have been changed. Some events may have been compressed and details might be included from another story to protect the confidentiality and privacy of all those who receive assistance from Binc.
Story #1
A call came in from a bookseller whose wonderful family adventure had turned into a nightmare. James, along with his wife and children, had relocated to another state when his wife accepted a dream job. James was able to transfer to another bookstore in that area, so it all seemed to be falling into place nicely. They were planning on a brief stay in an extended stay hotel while they looked for a home to rent and begin their new life.
Within a few weeks of their move his wife's new employer suddenly eliminated a large number of positions, hers included. Having no place to go and with only one income from James's bookstore job, finding permanent housing was proving to be nearly impossible. Meanwhile, they were stranded in the hotel, which was quickly eating up the savings they had put aside for a new home.
While searching the internet for any kind of available assistance, James hit on Binc's website. A foundation that helped booksellers? It sounded too good to be true, but he took a chance and called anyway.
Binc was able to help pay for the hotel until they could find a place to rent. Then the Foundation further helped by covering the move-in expenses when the family found a home they could afford. Once settled and both parents once again employed, the family could begin to enjoy their new life.
Story #2
Owning a bookstore in a resort town on the Atlantic coast was a dream come true for Alexis. While hurricanes are a fact of life in this area, they often blow in and out without much lasting damage or disruption. Hurricane Florence was a different story: the storm slowly worked its way up the coast, leaving extensive flooding and damage in her wake. After the storm passed and it was safe to return to the store to assess damage, Alexis found that all of her pre-storm preparations had been mostly effective. She had moved all inventory to high shelves, so even with the 3"-5" of water that came into the store, most merchandise was not damaged.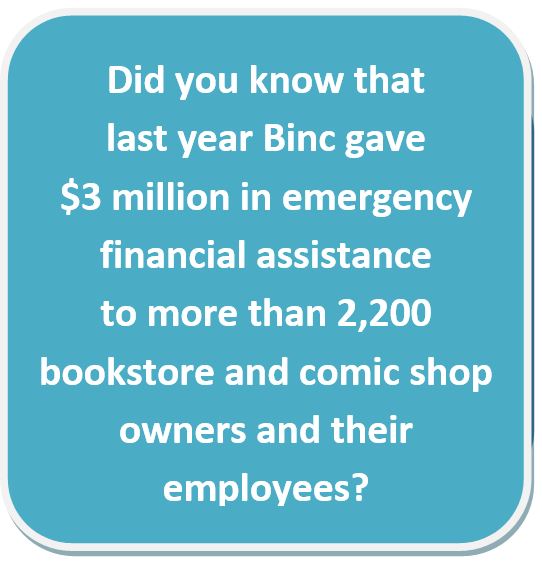 But having merchandise to sell and actually opening the store to customers would prove to be two very different things. The road to recovery was proving to be much more difficult that Alexis first thought. Due to the extensive damage to the area, local authorities encouraged visitors to stay away, to give residents a chance to clean up the debris. For several months, access to the area was limited to residents and contractors only. The business owners and town leaders were working together on a plan to attract visitors back once the clean-up was complete. But until then, with no income, paying store expenses would be impossible for Alexis.
Routinely, after hearing about natural disasters, Binc Programs Managers will reach out to bookstores and comic shops in the impacted areas. These phone calls are intended to let owners and employees know that Binc is ready to help them recover as quickly as possible. This is how Alexis and Binc connected. Binc was able to help with a few months of store rent and utilities to help Alexis keep the doors open until the tourists returned and customers were once again able to shop for their next favorite book.
Story #3
Liz and Jim, who have owned a comic book shop since 2011 contacted Binc to seek help for a set of financial emergencies that hit their household in quick succession. Their call came after a particularly destructive wildfire season in the California community where they lived and worked. The fires had forced the couple to evacuate from both their house and their shop. As bad as the wildfires were, having them occur during the fourth quarter, after the couple had just made substantial purchases for holiday stock, made the situation all the worse. The loss from the wildfire so adversely impacted their business that Liz and Jim were unable to reopen and the difficult decision was made to sell the shop they loved. After several months, the buyers they had found abruptly stopped making their monthly payments, so the couple lost not only the monthly payments but all the inventory as well.
At around the same time, Liz was diagnosed with a chronic disease that limited her ability to help run the store. The couple realized that in the long run being closer to family and the caretaking help they could offer was their best move. They packed up their belongings and moved to a much less costly location in a neighboring state to begin anew.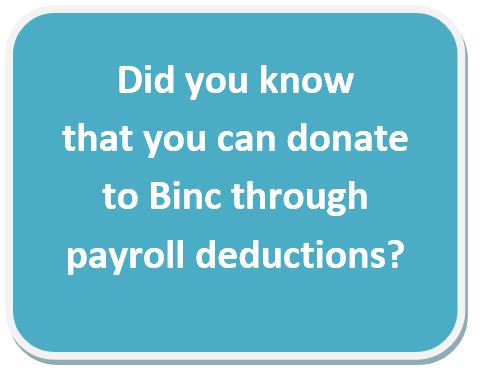 As they were getting their new shop up and running, Liz and Jim were each working additional side jobs, but they were still struggling to cover their household expenses. All it took was a medical emergency to tip this delicate balance. The medical provider was threatening to send their bill to collections, which they knew could jeopardize their credit rating and the future of the store. They were running out of options when fate intervened. Liz and Jim were attending a comic retailer's summit where they learned about Binc. After talking with the couple about their self-proclaimed "string of bad luck," Binc was able to help cover household rent and utility bills as well as paying off that looming medical bill. With this bit of help, Liz and Jim were back on track to replicate the award-winning store they operated in California.
Story #4
A few months ago while working out at the gym a comic shop owner we will call Bill had a very frightening medical emergency. "I lost my mind, literally. I had an episode of amnesia and couldn't remember a multitude of numbers, phrases, passwords, friend's names and all the little things you take for granted like being able to access your phone or home that you use hundreds of times a day." He couldn't even remember how to call his wife for help.
Fearing it might be stroke-related, Bill was hospitalized for 24 hours of testing. After a multitude of tests the diagnosis of transient global amnesia was made. While the amnesia subsided after 10 hours, Bill was left with another set of problems to overcome: the bills.
"Ten hours of transient global amnesia cost me thousands. Having those bills due while working to keep the store afloat during a pandemic was even worse." What followed was months of arguing with the insurance company and medical providers over what amount was owed and who would pay. Frustration mounted as correspondence was lost, appeals were denied, and multiple invoices continued to show up in Bill's mailbox.
The programs manager at Binc advised and assisted Bill in negotiating the invoices totaling nearly $5,000 and keeping them from being turned over to a collection agency. Ultimately, Binc paid a large portion of the hospital bill, allowing him to get back to the important work of running his store.
Bill writes, "In addition to helping with the bills, you also helped with one of our other scarce resources--time. I would never have gotten to all the calls necessary to get them to stop billing me. I never imagined I would need [Binc's] help but certainly will be a lifetime supporter."