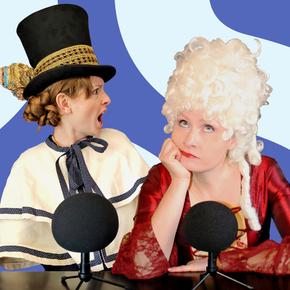 Katie Nelson and Olivia Meikle
Olivia Meikle and Katie Nelson are professors, podcasters and sisters! Together they host the popular What'sHerName history podcast. They also teach History (Nelson) and Women's Studies (Meikle) on opposite sides of the Rocky Mountains. Between them, Nelson and Meikle have two husbands, five kids, two parakeets, one schnauzer, one hermit crab and approximately one zillion years of schooling. Here they discuss what it was like working together on The Book of Sisters.
Meikle: We've worked together closely for the past few years now, but do you recall when we first met?
Nelson: Uhh, I don't. Do you? [laughs] It would have been the moment I first entered this world...
Meikle: [laughing] Yeah, I don't remember either.
Nelson: But I'm glad it happened! Being sisters is such an interesting experience. We might never have become friends in real life.
Meikle: What are you implying?
Nelson: I'm saying that sisterhood throws together women who may never have teamed up otherwise! And that's us, we're opposites in so many ways. But therein lies our strength, right? It certainly came in handy while writing a book about sisters in history.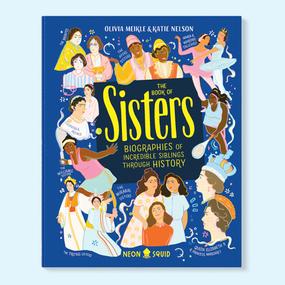 Meikle: Absolutely. I was delighted at the unusual idea of the project, and the challenge of it. But I wasn't expecting how much fun it was going to be, to see the sisters who used their differences and their similarities to create amazing art, change the world, or overcome huge obstacles.
Nelson: Yeah, I was hooked on the idea the moment I realized we could attempt to write a history of the world, in sisters. Teaching World History for so many years, there was a sort of accepted canon of historical figures--99% men. It was refreshing to view the human story through a new lens: not just women, but sisters, specifically! It really challenged me to seek out new perspectives and stories I'd never heard of before. Just as we've discovered with the podcast, when you go looking for important women in history, you find them everywhere, hidden just beneath the surface.
Meikle: Absolutely. These women were so fascinating and so unexpected that I found myself continually in awe. Stories like the brilliant McDonagh sisters, who pioneered moviemaking during the silent film era and yet have been almost completely forgotten now. There's something very satisfying about bringing them back into focus for a new generation of readers! Or the Oversteegen sisters who put their lives on the line to save innocent people--I'll never stop being amazed by their courage.
Nelson: I'm still enthralled by the Khatun, the four daughters of Genghis Khan who built a functioning kingdom (as opposed to Genghis, who just smashed everyone into submission). I'd never heard of them before, but they were such a force in history! I want to dig deeper. Need to learn Mongolian first...
Meikle: And there were plenty of villains too, that was equally fascinating. Since sisters know each other so well, they have a special power to all-out destroy each other.
Nelson: Yes, that's an important lesson for us [laughing]. I, for one, had a lovely time working on this project, and hope to continue NOT smashing each other in the future.
Meikle: Amen. Here's to smashing the patriarchy together!