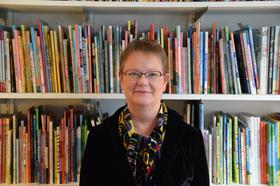 Karen Wojtyla
Karen Wojtyla is the vice president and editorial director of Margaret K. McElderry Books. She works with a talented team of editors to publish award-winning and bestselling titles across all categories of books for young readers.
I am so thrilled to be celebrating the 50th anniversary of Margaret K. McElderry Books! It's an honor to be a part of the legacy created by a legendary editor and publisher, and to carry it forward. This wonderful imprint has been exciting and inspiring young readers for half a century—and we can't wait for more!
Over the years McElderry has published many different genres of books for young readers of all ages. Margaret was a pioneer in publishing stories from many countries and cultures, and fiercely committed to engaging kids with the world. These challenging times make these connections vital, as we see the power books have for young readers to expand horizons, broaden understanding and heighten empathy. And we relish the chance to publish great storytellers from many perspectives.
One of the first series Margaret published is also one of the most beloved fantasy series of all time, and a personal favorite of mine, Susan Cooper's Newbery Award-winning The Dark Is Rising. Fantasy stories have been and continue to be one focus of this imprint—it's always been a genre that is bold about pushing boundaries. But it is certainly not all we do!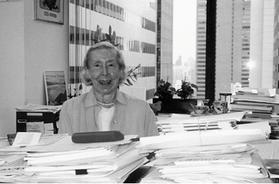 Margaret McElderry
We have published important stories from the past, like Louise Borden and Michael Foreman's The Little Ships; just-for-fun stories like Michael Rosen and Helen Oxenbury's We're Going on a Bear Hunt; stories that gently teach like Karma Wilson and Jane Chapman's beyond-adorable Bear series; stories that transport you to fantastical worlds like Cassandra Clare's groundbreaking and bestselling Shadowhunter series and Margaret Rogerson's Sorcery of Thorns; stories that bring a touch of fantasy to the joys and trials of middle graders like Holly Black's Newbery Honor-winning Doll Bones and William Alexander's National Book Award-winning Goblin Secrets; and stories that re-invent classics in new worlds like Chloe Gong's incredible These Violent Delights.
These are just a few of the critically acclaimed and bestselling books from authors and artists who have made the McElderry imprint a truly special place to be. I felt it the moment I arrived many years ago—I felt I had come home. And I truly cannot wait to see what's to come. Here's to another 50!