Flip Pop: Harry Potter ($21.99, 9781647227180, October 18, 2022) and Flip Pop: Hermione Granger ($21.99, 9781647227197, October 18, 2022)
Creator Matthew Reinhart speaks to the challenge of creating an entirely new character collectible.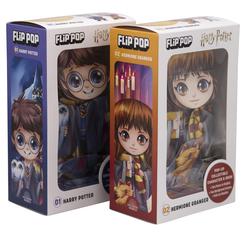 How did you come up with the idea for Flip Pops?
The inspiration for Flip Pops was many years in the making, but I think it was an extended brainstorming session that really kicked them into high gear. We're both huge fans/collectors of both pop-up books and entertainment collectibles like movie replicas, mini-statues, action figures and toys. How could we merge pop-ups with an action figure? How could we add a POP to a three-dimensional character? How could we make that action both surprising and satisfying? It was a huge challenge, and one that I was eager to take on! We wanted to be able to make the prototype Flip Pop figures something collectible, affordable, and fun that featured beloved characters from across multiple properties like Harry Potter, DC Comics, Disney, Star Wars, Marvel, Stranger Things and more.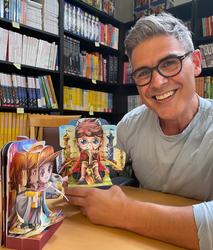 Matthew Reinhart
What was the biggest challenge of creating the Flip Pops?
EVERYTHING! The whole concept was something brand new, something I've never really tackled before, so there were a lot of different directions explored. I mean, it's a pull-tab action pop-up that happens on several surfaces all at once on a three-dimensional object--something I've never designed before! Some of the throw-away designs--yikes!--well, let's just say I'm glad they got pitched into the recycling bin! That said, those explorations were really important to learn about what worked and what didn't. Breaking new creative ground as a fairly accomplished artist in my field (not bragging, I swear!) can be both humbling and exhilarating all at once. Some of the earliest prototypes looked nothing like what we've got now--and I am thankful we took the time to get them right, and I'm excited to create even more new Flip Pop designs in the future!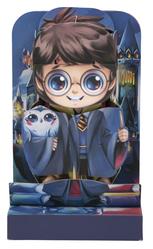 What's your favorite feature of the Flip Pops?
Well, it's obviously the POP!--or the transformation that occurs when you flip they switch on the back of each Flip Pop. Flipping that switch (which is really satisfying to make happen, by the way) and making that transformation happen, that's really fun. There's something magical, at least I think, about making something transform with such a simple action.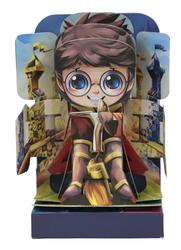 Are you a collector?
Am I ever! I began collecting in 1978 after the very first STAR WARS movie released when Santa left me my first Kenner STAR WARS figures, R2-D2, C-3PO, Luke Skywalker and Princess Leia. I was immediately hooked and collected every STAR WARS 3.75" action figure and vehicle since then! My original action figures from my childhood are actually displayed in mirrored window-boxes in my home so I can actually enjoy those figures when I get up every morning. Simple pleasures, eh?