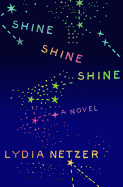 Lydia Netzer's debut novel, Shine Shine Shine, introduces Maxon and Sunny, each an unlikely figure of romance separately, and in combination so improbable that they become the most charming and easy-to-root-for couple this side of the Sea of Tranquility.
Somewhere in space, a rocket ship carrying Maxon Mann and his robots speeds toward the moon, where the Nobel Prize winner will begin preparations for a lunar colony. Back on Earth, in their picture-perfect suburban home, his elegant blonde wife, Sunny, waits for Maxon to return, manages their autistic young son, Bubber, and watches her mother slowly die of cancer, all the while pregnant with their second child, a baby girl. One of the most vital cogs in their well-oiled machine of a neighborhood, Sunny plans to soldier on efficiently through her troubles, but the balance of her life is upset when a minor car accident claims a surprisingly important victim: Sunny's wig. Not only is Sunny not a natural blonde, she's completely bald. Born with a rare and puzzling condition, Sunny cannot grow hair anywhere on her body. Since her first pregnancy, Sunny's longing to blend in has caused her to don a series of elegant wigs, along with false eyebrows and eyelashes. Despite the misgivings of Maxon and her own mother, who raised Sunny to accept her condition, Sunny was sure Bubber would benefit from having a normal mother.
Now, her secret literally laid bare, Sunny confronts her assumptions about what normalcy is and whether it has any real benefits. Her quest for a normal life has led her to overmedicate her son, alienate her mother and, worst of all, turn against Maxon when he cannot fit into her vision of the perfect life. Reminiscing about their shared childhood in a failed Pennsylvania oil town, Sunny begins to realize that the only way to repair her marriage is to let go of the safeguards she has installed in their lives and allow her family to chart its own weird and wonderful course.
However, her realization may have come too late. A meteor strike leaves Maxon and his fellow astronauts stranded en route to the moon. Maxon and his robots are now the mission's only chance of survival. If they fail, Maxon will never see Sunny, the only woman he has ever loved, again.
Through a series of flashbacks interspersed with the present day scenes, Netzer slowly unravels the history of the imperious bald girl and the abused mathematical prodigy who would grow up to become Sunny and Maxon, forging their bond through a need for human connection as well as their sympathetic gifts. Free-spirited, dramatic Sunny helps Maxon unlock his feelings through his native language of equations, while his quiet genius and orderly ways provide a stability Sunny returns to time and again. Their understated yet defining attachment manages to be at once both epic and wholly believable, a storybook love that one can nonetheless imagine existing in the real world.
Netzer also explores the way mothers try to make the best possible choices for their children without realizing they may be doing more harm than good. Sunny's mother refuses to let Sunny hide her baldness, certain that Sunny can be whole only by accepting her condition. Sunny, in her turn, is willing to resort to any means to make Bubber more like a neurotypical child, believing that stifling his autistic traits is the only way to "fix" him. Their exploits tie into the novel's central theme--that happiness and fulfillment lie in embracing one's true self rather than trying to cover perceived flaws. Maxon, not sold on the idea of increasing Bubber's medication, advances an interesting theory, that what the outside world might view as disability in their family is actually unrecognized evolution, their bodies and minds deviating from the norm to prepare for a new world.
Through domestic squabbles, grief and meteor strikes, Shine Shine Shine remains an upbeat affirmation of life and self-discovery. Cleverly mixing mathematical equations with human relationships until the two seem inextricable, Netzer's logical yet whimsical voice combines with light touches of science fiction in a refreshingly original novel that will leave readers thinking about their own best selves.