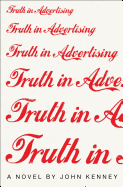 A debut novel with a sharp bite and a sweet soul, John Kenney's Truth in Advertising has a lot to say about pop and corporate culture, work environments, friendship and family. Comparisons to Jonathan Tropper and Joshua Ferris are inevitable, and although Kenney does mine some of the same rich territory, his voice and his characters--by turns ironic, vulnerable and unguardedly optimistic--are entirely his own. An ex-copywriter and a contributor to the New Yorker, Kenney has an eye (and an ear) for both the sublime and the ridiculous and for narrative in all its forms and permutations. Effortlessly combining satire and domestic drama, the novel offers many surprising turns and never sacrifices humor in the service of emotion.
The narrator of Truth in Advertising is Finbar Dolan, an almost-40, moderately successful adman who's been put in charge of Snugglies, his company's big diaper account. Darrin Stephens he's not, though his Sword of Damocles wit is sharp enough to split a falling hair. Indeed, hair-splitting is exactly what takes place in the novel's hilarious opening sequence about the absurd lengths Fin goes through to get a commercial made: "Initially, Gwyneth was not on the consideration list.... Names like Madonna and Angelina were short-listed but ultimately the client feared they were seen as 'baby thieves' (the client's words). President Obama's mother-in-law, Marian Robinson, was added to the list but was also ultimately nixed because, as our senior client, Jan, said on a conference call to general acclaim, 'This is about the mother-child bond, not the nana-child bond. Though we would like to see more women of color.' Which is when a midlevel client responded, suggesting Victoria Beckham (née Posh Spice). Which is when we informed the client that Mrs. Spice-Beckham was not a woman of color but just a woman colored, perpetually tanned, often deeply so."
It is apparent from this progressively riotous start that Fin has no illusions about the sometimes ludicrous nature of his work, where a narrative--a winning story--must be created on a moment's notice whether or not that narrative has any relationship to the truth . But Fin is also quick to admit that a false narrative can also be a beautiful one. It is because of this potential for beauty, in fact, that Fin has concocted his own narrative--a defining story that fits who he thinks he should be: a happy, well-adjusted husband with a Norman Rockwell background. Unfortunately, this story is as thin and weightless as the campaign for Snugglies' new "biodegradable" diapers, which are even less earth-friendly than their original ones. In reality, Fin has just broken his engagement to a sweet woman for no apparent reason; he is desperately lonely, secretly in love with his coworker, Phoebe, and haunted by the memories of his tragic childhood.
It's difficult to keep a bright, shiny façade glued to this kind of grim reality and so, inevitably, Fin must confront his insecurities and demons. The catalyst comes when his estranged brother (the eldest of Fin's three siblings--none of whom speak to each other) calls to tell Fin that their father (an abusive ex-cop who deserted the family when Fin was 12) is hospitalized and near death. It's almost Christmas, and Fin's boss has just told him that he must create a Super Bowl commercial for Snugglies right now but Fin decides to go to his father and, in the process, travel through his past to try to make sense of it.
Kenney shifts seamlessly between the sharp and snappy work vignettes and slower, more melancholy domestic scenes, often combining them in beautifully constructed side plots such as Fin's burgeoning relationship with Keita, the adult son of the Japanese owner of the ad agency. Keita knows a thing or two about cruel and domineering fathers and the two form a bond that is both humorous and truly moving. Gradually, Fin's work life, past, and personal life (including all the emotions he has long hidden from himself) are unbraided and revealed and the real narrative--the truthful one--is constructed.
It is a difficult trick to combine humor and pathos as effectively as Kenney does here; even more impressive considering that this is a debut novel. Kenney's advertising background has served him well; every scene involving the diaper campaign is completely on point and often laugh-out-loud funny. But there are also many tender, revelatory moments in this novel; none of which, to Kenney's great credit, ever feel forced or manipulative. An honest and very insightful novel about a business and a life that have both been anything but, Truth in Advertising is a wonderfully entertaining and elegantly written first novel from an author who will surely find a large and appreciative audience. --Debra Ginsberg, author