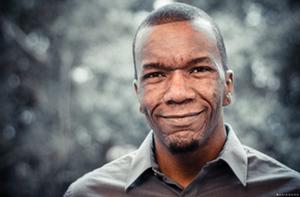 photo: Randy Skidmore
Jason Mott holds a BA in fiction and an MFA in poetry and is the author of two poetry collections, samples from which may be read on his website, Pen and Cape. His writing has appeared in numerous literary journals, and he was nominated for the 2009 Pushcart Prize. Jason lives in North Carolina. The Returned is his first novel. Follow him on Twitter @jasonmott.
How did you come up with and develop the basic concept of The Returned?
The seed for the idea actually came from a dream. Both of my parents have passed away--my mother in 2001, my father in 2007. Back in July 2010, around the anniversary of my mother's death, I dreamed of her. It was a simple dream: I came home from work one day and she was sitting at my kitchen table, waiting for me, the same way she had done on many days of my childhood.
The rest of the dream was, given the scope of things that can happen in dreams, relatively boring. She and I simply talked. She asked me about my life. I told her everything that's happened since her death. She even nagged me a little about the fact that I still wasn't married. In short, she was my mother as I had always known her.
It was one of those hyper-realistic dreams, the kind you wake from unsure over which world is real. I half expected to walk out of my bedroom and find her waiting for me. That dream stayed with me for weeks. I fell asleep each night hoping to re-create it--hoping to spend more time with my mother--but was never able. Eventually I talked about it with a very good friend who asked, "Can you imagine if that really happened? And what if she wasn't the only one?"
The Returned is more about dealing with a situation than finding the answers behind the situation. What made you decide to leave so many of the "hows" unanswered and just follow your characters?
I struggled with the "how issues" for a long time. At the end of the day, I've got a very analytical mind. I'm a science junkie, and here I was working with a premise that science could not explain. That kept me up at night.
I spent a great many hours trying to come up with an explanation for the Returned, but none of them rang true. They were all terrible--even until the point of being a little insulting to the reader, I felt. More than that, the pursuit of the "how" began to distract from the story. It was getting me sidetracked. That was about the time I realized that I cared far more about my characters than I did about the explanation for the Returned.
I came to terms with the fact that I was writing about an impossible event, something that could only occur in a dream. So I embraced it. I threw my characters into it wholeheartedly. I let it become something as vexing and unconquerable for my characters as it had become for me.
Even more than that, I asked myself: If my mother came back to me, even if only for a little while, would I really care how? Or would I just do everything I could to hold on to whatever time I had with her?
The answer was clear for me.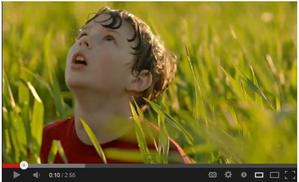 Tell us about The Returned being optioned for a TV series.
The Returned has been picked up by ABC, and been renamed Resurrection. It is being produced by Brad Pitt's production company, Plan B, in association with Brillstein Entertainment. The screenplay is being written by Aaron Zelman and directed by Charles McDougall. I can't begin to tell you how exciting this is!
As I type this, casting has been completed and they're filming in Atlanta. I'm completely in love with the casting, which includes Frances Fisher, Kurtwood Smith, Omar Epps, Matt Craven, Devin Kelley, Nicholas Gonzalez, Sam Hazeldine and newcomer Landon Gimenez.
The cast has been wonderfully approachable. Nearly all of them found me on Twitter and will send me photos and snippets of news about filming. They're amazingly excited to be a part of the project.
The next stage in this process is that, once the pilot is filmed, it gets viewed by the network and then they decide whether or not to pick it up for the fall. Fingers crossed!
You're a superhero fan and your poetry is often inspired by comics. Is there any aspect of the superhero universe that influences your fiction in general and The Returned specifically?
The superhero universe always influences my writing. I can't get enough of the study of superheroes and their grandparent, mythology. Often times, when I write, I will snatch characteristics from certain superheroes or from certain mythological stories, or I'll pattern the core of a character after a certain superhero. Lucille was most certainly a partial derivative of Wonder Woman. I pictured the evolution of Lucille's character as slightly parallel to the evolution of Wonder Woman. Over the years, she has stepped out of the shadow of DC's other "big guns" and become a complex, powerful and formidable character in her own right.
So when Lucille is separated from Harold, she undergoes an evolution. Which is not to say that Harold dominated Lucille--those two were most certainly evenly matched!--but, rather, to say that, as the situation in the town of Arcadia worsened, Lucille stepped out of the shadow of what she had been--what she expected herself to be--and became something even greater, something even she did not know she could become.
Does writing poetry help with or play into your fiction writing or vice versa?
My fiction and poetry have always informed each other. Most people don't know this about me, but fiction has always been my primary writing venue. Poetry is my second love.
I started writing short stories when I was about thirteen or fourteen. I grew up loving mythology and the epic, heroic narratives such as The Odyssey and Beowulf. And then I came across an excerpt from John Gardner's Grendel. That was an awakening moment for me. I didn't know writers were allowed to take existing stories and make them their own. It was wonderfully exciting to learn! That's when I started writing.
What can we expect to see from you in the future?
Right now I'm hip-deep in my next novel. That's where my creative energy is focused right now. I don't want to talk about it too much because it's still in development, but I will say that it is another magical realism/speculative fiction story and, once again, it takes place in a small North Carolina town.
Apart from that, I've got a couple of other back burner projects in various stages of completion. As you know, I'm a fan of comics. And I'd be lying if I said I wouldn't like to take a swing at that genre. The same can be said for screenwriting. --Jaclyn Fulwood