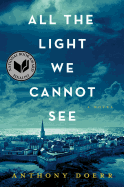 Endlessly bold and equally delicate, Anthony Doerr's second novel is bound to draw admiring comparisons with Markus Zusak's The Book Thief. Yes, it is set during World War II and, yes, it features a girl who stands firm in the face of power and evil thanks to the power of literature and learning. All the Light We Cannot See, though, is very much its own creature: an intricate miracle of invention, narrative verve, and deep research lightly held, but above all a miracle of humanity.
As Doerr's tale opens in early August 1944 in the last Nazi stronghold in Brittany, we should be applauding the coming Allied assault. Instead, we quickly come to fear for his young heroine and hero trapped within Saint-Malo. In another world and lifetime, these two exceptional, endangered innocents--a 16-year-old French girl who cannot see and an 18-year-old German soldier obsessed with radio communications--would never meet, or need to. What we will eventually learn, however, is that they share a strange, star-crossed history.
But as the Allies prepare to destroy Saint-Malo, where Marie-Laure LeBlanc has been marooned since she and her father fled Paris in 1940, Doerr's heroine has never been so alone. While she hopes her father is still alive in a prison camp, she is now as isolated as the orphaned Werner has been for many years. Unlike everyone else, Marie-Laure cannot read the Allied leaflet urging all residents to take flight. Anyway, she's far too preoccupied with keeping her great-uncle Etienne's house safe from intruders, for reasons we will eventually come to know.
Meanwhile, Private Werner Pfennig is immured in a hotel-cum-Nazi fortress only five streets away, desperate to find the source of one particular transmission. This desire, we are to discover, has nothing to do with national allegiance and perhaps everything to do with Marie-Laure.
Had Doerr continued to follow each teenager throughout the siege, he would easily have maintained the reader's interest and admiration in their worlds both inner and exterior--fresh and strange, fraught with danger. However, this gifted writer quickly moves back to 1934 and two very different childhoods, increasing the reader's involvement.
At six years of age, Marie-Laure can still just see the many treasures in the Paris Museum of Natural History, where her father is chief locksmith. One stone in particular, she learns, has always captivated visitors and dreamers--the 133-carat Sea of Flames, which comes bearing a terrible curse, something that is to haunt her in the years to come. In 1934, though, Marie-Laure's main concern, and her father's, is maintaining her independence when total blindness strikes.
Endlessly examining and memorizing his scale model of their neighborhood is a start. But Marie-Laure has to experience Paris's streets in order to get through them. ("Everything is composed of webs and lattices and upheavals of sound and texture," she tells children who ask about her condition.) Another survival tool and source of solace: Jules Verne's fictions. Marie-Laure's dreams are also of great comfort: "Church bells send arcs of bronze careening off the windows. Bees are silver; pigeons are ginger and auburn and occasionally golden. The huge cypress trees she and her father pass on their morning walk are shimmering kaleidoscopes, each needle a polygon of light."
In 1934, such possibilities, and certainly such ornate images, are beyond Werner. Not yet aware of his flair for electronics, his only goal is to continue subsisting in a children's home in a benighted German coal-mining town and to keep his younger sister safe.
Because Doerr writes in the historic present throughout, these episodes never emerge as flashbacks. And this is not the only chronological switch. Throughout All the Light We Cannot See, he moves effortlessly between the 1930s and early '40s and those crucial days of August 1944, amping up the immediacy and extremes of tension and feeling.
Innocence, of course, never exists in an experience-free vacuum, and the novel has its several monsters, not least the driven Sgt. Major Reinhold von Rumpel, who is among those charged with relieving France of its heritage. Witnessing him smoothly, patiently menace museum directors is one thing; being inside Marie-Laure's mind as he closes in on her in Saint-Malo is another. Yet this man is allowed his moments of fear and humanity, as is most everyone in this abundantly peopled novel.
All the Light We Cannot See is rich in shattering scenes, many of which acknowledge the ambiguity Werner exists within. He may not be the one shooting the enemy; he will, however, be the one tasked with collecting enemy equipment, "even with the pieces of the man on the transmitter like that." Such realities demand reflection, which Doerr amply provides, but he has an equal genius for pace and suspense. More mainstream writers will find everything to admire in, for example, von Rumpel's inexorable stalking of Marie-Laure.
Anthony Doerr's novel celebrates--and also accomplishes--what only the finest art can: the power to create, reveal, and augment experience in all its horror and wonder, heartbreak and rapture. His worlds have infinitely more exquisite, arresting and lacerating facets than his mythical Sea of Flames. --Kerry Fried