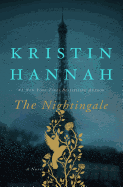 In war, heroic action stands shoulder to shoulder with atrocity both on the battlefield and at home. While war stories often focus on combat deeds, civilians also fight for their countries in ways that may be more subtle than but equally as dangerous as picking up a firearm. In The Nightingale, Kristin Hannah envisions the stories of two French sisters who take different paths to heroism in World War II, one plunging into the war effort as a French Resistance operative and the other trying desperately to survive and protect her daughter.
"In love we find out who we want to be; in war, we find out who we are." In 1995, an elderly, terminally ill Frenchwoman now living in Oregon prepares to move from her home of 50 years to the nursing home where she will spend her last days. Now, few possessions retain their importance, but she will take with her a trunk containing assorted mementos and a set of false identity papers from World War II Occupied France. Her adult son humors her, and she regrets for the first time that in always emphasizing her husband's role in the war, she never told her son about her own war, or her sister's.
Fifty-six years earlier, in post-World War I France, Vianne and Isabelle Rossignol have nothing in common but blood. Their father, a traumatized war veteran, lost interest in both girls after the death of their mother. The elder sister by a decade but still only 14, Vianne was expected to play mother to Isabelle. When Vianne married her sweetheart Antoine at 16, the young couple initially took Isabelle in, but Vianne found herself unequal to the task of raising her sister after a tragic miscarriage left her prostrate with grief.
More than 10 years later, Vianne enjoys a simple life with Antoine and their eight-year-old daughter, Sophie, in Carriveau, where she teaches school and Antoine works for the postal system. Isabelle, now 18, has spoken her mind at finishing school and been expelled--for the fourth time. When World War II breaks out, the men of Vianne's town are called to the front lines, and Antoine is no exception. Thoughts of how the Great War changed her father swirl through Vianne's mind, mingling with fear for her husband and anxiety at being alone, but "What was love when put up against war?" Isabelle, too young to remember their father as anything but cold and distant, finds her imagination captured by dreams of serving her country as an ambulance driver or code talker, telling a male friend, "I could be a war hero," an idea he categorizes as "absurd" due to her gender.
When the German occupation of France begins, Isabelle flees from Paris to Vianne's house at Carriveau, narrowly surviving aerial machine-gun fire in the countryside. The sisters immediately clash, Isabelle galvanized against the Germans by her experiences, Vianne determined to keep her head down and try to maintain as normal a life as possible for Sophie's sake. The Germans arrive, "looking more like tourists than conquerors," and the sisters' relationship grows increasingly tense when a German officer billets at their house, giving Isabelle a target for her vitriol and leaving Vianne to keep the peace. As the conflict between countries grows and Isabelle becomes secretly affiliated with le Resistance, the rift between siblings widens until reconciliation between them looks as unlikely as could be.
Hannah delves unflinchingly into a time and place "when the world was at war and everything was scarce and your husband was gone." Although she incorporates real events such as the roundup and deportation of French Jews into her narrative, Hannah focuses not on the war as such but on how it affects the ordinary men and women caught up in it. With her trademark instinct for capturing family dynamics and female relationships, Hannah offers her fans everything they've come to love and expect in her writing. However, she also stresses some often-overlooked aspects of war. Through Vianne's interactions with German captain Beck, she reminds readers that although the Nazis are one of the most reviled groups in world history, some German soldiers followed orders because they feared the Gestapo as much as the occupied citizens did. War creates circumstances that bring out the best and the worst in humanity. Hannah demonstrates both sides of the equation with clarity, as well as the instantaneous camaraderie of people fighting for a common cause and the suffering women will endure to protect children. While Isabelle's bravery as an operative will capture hearts instantaneously, Vianne's slower, quieter journey toward heroism will strike the deepest chord. Spanning the course of the entire war and tying multiple aspects into the lives of its characters, Hannah's epic is an emotional powerhouse that belies Vianne and Isabelle's father's assertion that "'We are all fragile, Isabelle. It's the thing we learn in war.'" Instead, Hannah lays bare the human heart's capacity for courage, compassion and resilience. Expect to devour The Nightingale in as few sittings as possible; the high-stakes plot and lovable characters won't allow any rest until all of their fates are known. --Jaclyn Fulwood