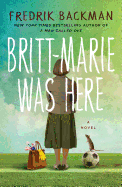 "Britt-Marie is not actually passive-aggressive. She's considerate." The sexagenarian believes in using coasters, keeping lists and always making the bed before she leaves the house. Anything less is simply uncivilized. But Britt-Marie's safe, organized, civilized life is upended when she leaves her cheating husband, Kent.
Alone for the first time in her life, Britt-Marie worries about dying and no one knowing she's gone until her decomposing corpse draws attention. So she decides she will find a job because "if one has a job, people notice if one doesn't show up." With Sweden's struggling economy, the only thing available to this retirement-age woman who hasn't worked outside her home in 40 years is a temporary position as a recreation center caretaker in Borg.
"Borg is a community built along a road. That's really the kindest possible thing one can say about it. It's not a place that could be described as one in a million, rather as one of millions of others."
Fredrik Backman crafts a city that can be identified anyplace in the world. Readers everywhere will recognize the struggling small town devastated by a global recession: businesses gone, houses for sale and a mass exodus of everyone able to leave. In Backman's crippled little burg, citizens are handicapped by their life circumstances: some literally, like the wheelchair-bound pizzeria owner and the blind former soccer star; others figuratively, including the rag-tag bunch of children who are forced to play soccer in a parking lot lit by car headlights, with soda cans for goal markers. Borg's remaining citizens proudly refuse to give up; they're determined to make the best of what they have.
When Britt-Marie arrives in Borg, she sets to work doing what she does best: cleaning. Armed with baking soda, she attacks the recreation center with verve. However, when she goes in search of her favorite window cleaner, Faxin, she's told it isn't manufactured anymore. Britt-Marie started using Faxin because she loved an advertisement she saw as a child: "Faxin Lets You See the World." What will she do without her beloved cleaner? Perhaps she'll have to see the world differently. Backman provides Britt-Marie with the tools to not only clean her windows to the world, but to see her own reflection in their magical sparkle as well.
As the dirt of life from Britt-Marie's windows starts to come off, she connects with the citizens of Borg, including a rat living in the recreation center. But the ones who truly change her view of the world are the members of the parking lot soccer team. Barging into the rec center one night to watch a match on the television--the previous manager always allowed the team to watch games together there--the children finagle their way into Britt-Marie's sphere. Unsure what to do with the group, she again resorts to what she knows best--cleaning. So she collects their muddy soccer clothes and heads for the laundry room.
Little by little the children break down Britt-Marie's defenses. One talks her into doing his hair for a date, another continues to find things she needs--things that just happen to "fall off a truck"--and the team leader and only girl, Vega, convinces Britt-Marie to be their coach so they will be eligible to compete in a tournament. Britt-Marie knows nothing about soccer, but Backman, Borg and the town's determined young players are about to educate her.
As with Backman's previous two books--A Man Called Ove and My Grandmother Asked Me to Tell You She's Sorry--Britt-Marie Was Here is a brilliant mix of belly-laughs, profound insight and captivating events delivered through enchanting characters disguised as ordinary folk, with Backman's pitch-perfect dialogue and an unparalleled understanding of human nature. His humor is often conveyed through an offhand, deadpan thought or comment, and the result is far wittier than a straightforward joke:
"Bank leaves the parking area in a hailstorm of the ugliest and most colorful words Britt-Marie has ever heard. Britt-Marie actually didn't even know it was possible to combine words for genitalia with words describing other body parts in that way. You don't even come across that level of verbal innovation in crosswords."
And the worldly wisdom hidden among the pages catches readers off-guard with its power and simplicity:
"That is the reason why passion is worth something, not for what it gives us but for what it demands that we risk. Our dignity. The puzzlement of others and their condescending, shaking heads."
Britt-Marie Was Here will warm hearts, wrench hearts and, most importantly, it will steal hearts. At its core, it is a love story, one in which a lonely woman learns to love a small town, its inhabitants and especially herself. Fredrik Backman has cleaned the windows so his readers can clearly view his world, and the reflections they catch of themselves may change them forever. --Jen Forbus