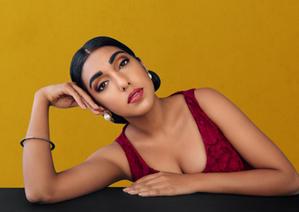 photo: Nabil Shash
Rupi Kaur is a young woman of remarkable talent and artistry; her second collection of poetry, the sun and her flowers, follows the sensational success of her debut, milk and honey. the sun and her flowers explores healthy and unhealthy relationships between lovers and friends, between parents and children, the roots that keep us grounded and the gifts of love we share with one another.
Could you say a few words about the inspiration for the sun and her flowers?
The sun and her flowers has been my most challenging creative work. Inspiration for the collection came mainly from conversations with people, whether strangers I met on my trips, or my best friends and family. A lot of inspiration came from being away from those who are closest to me. There was the election in the U.S.--I would think about my parents and would wonder if I was doing enough for them. That guilt, pain and reflection inspired the sun and her flowers.
Is it accurate to say that milk and honey dealt far more with individual pain, whereas the sun and her flowers is broader in its reach?
Yes, it is. milk and honey almost wrote itself. It was a byproduct of me just writing because I love to do it so much. With the sun and her flowers, I explored themes I never thought I would address. I was a little timid to write about my parents and topics like immigration and female infanticide. the sun and her flowers is not a follow-up to milk and honey. It's supposed to be its own body of work and stand on its own two feet.
How did the title the sun and her flowers come about?
I am fascinated with sunflowers and their powerful connection to the sun--the way they rise and fall each morning and evening. I like to think that we are our own suns and the flowers are different situations, experiences or people that we encounter in our lives.
You are generous with fans of your work, posting poems from the sun and her flowers on social media before the book's release. Tell us about your motivation to do that.
I started my career by sharing my writing on a free platform. Accessibility is very important to me. I want my work to reach all my readers whether or not they can afford my books. Even the decision to publish in paperback before hardcover was all about accessibility. I come from the kind of family where, growing up, the only books we bought were from thrift stores. It's only recently that I allowed myself to buy a new, full-price book.
Also, I wanted to prepare the reader, to inform them that my themes have evolved, because I don't want them to pick up the sun and her flowers and say "Oh no, it's nothing like milk and honey."
There is some chatter out there about a Rupi Kaur novel. Is there any truth to this?
I've written about 10 chapters' worth of scenes for my novel, but I still have to figure out the plot. Novels are a completely different genre, and I want to work on refining my skills.
To that end, do you wish you could slow things down, the expectation that you will keep producing your art "on demand"?
Yes! We live in an age where everything moves so quickly. There is this running fear that if you don't put something out, you'll be forgotten. And to combat that I've been repeatedly telling myself, "This isn't content, this is art." So, it doesn't matter if I don't publish for a while. I want to give myself the space and tools to be an artist, to be creative.
What are some of your favorite types of books?
A genre I am currently in love with and revisiting is children's books--Dr. Seuss and Shel Silverstein. For me, these aren't even children's books. Adults need them perhaps even more than children! I've decided to re-read the Harry Potter series for the 100th time. Harry Potter is a place of comfort for me. I started the series in fourth grade and I constantly re-read them just to feel "at home." I travel with a copy of Harry Potter and the Half-Blood Prince in my backpack if I am anxious about traveling or meeting someone on a particular day.
What is your advice for that young (or not-so-young) person out there who wishes to express themselves through their art?
A few rare people are born with talent. But most folks, like me, are not. Practice is everything. Whichever successful artist you look up to, they didn't just get there randomly. It takes years and years of dedication and discipline. You have to put in the time, it's really the only way. --Shahina Piyarali