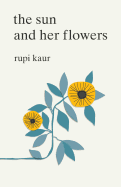 Rupi Kaur's debut collection, milk and honey, was an unexpected cross-generational sensation, catapulting the young poet to well-deserved stardom far beyond her social media fame. Kaur is a true artist in every sense of the word; the drawings that accompany her poetry are often startling and brave. Her new collection, the sun and her flowers, is an illustrated book of poetry brimming with inspiration that invites the reader to love deeper and purer, to boldly articulate one's needs and desires, to look at the world anew and to question everything. Kaur cleverly uses the life cycle of a sunflower--wilting, falling, rooting, rising, blooming--to illustrate the different stages of a relationship and the merciful release that accompanies self-acceptance and self-love.
A truly remarkable accomplishment of the sun and her flowers is its scope. With simple words and truths written in her trademark lowercase style, Kaur explores the relationships that are most important in life. In the chapter titled "wilting," Kaur writes of the last days of love, of casting spells to bring love back and the regret of abandoning the construction site of a relationship: "it isn't what we left behind/ that breaks me/ it's what we could've built/ had we stayed." In the poem "hunger," Kaur writes, "the hummingbirds tell me/ you've changed your hair/ i tell them i don't care/ while listening to them/ describe every detail." Botanical imagery features throughout the collection: "the dandelions on the lawn/ are rolling their eyes in disappointment/ the grass has declared you yesterday's news."
Kaur begins the next chapter, "falling," with the words "i notice everything i do not have/ and decide it is beautiful." This is a journey of understanding our own failings and our inability to appreciate what is in front of us, and the realization that waiting is not the same as living. Kaur's wisdom, remarkable in someone so young, is on full display in her poem "focusing on the negative": "i hear a thousand kind words about me/ and it makes no difference/ yet i hear one insult/ and all confidence shatters." On her thematic sunflowers, Kaur reflects with admiration, "despite knowing/ they won't be here for long/ they still choose to live/ their brightest lives." We are encouraged to banish self-hatred and focus on the sweetness of self-acceptance.
It is in the chapter "rooting" that Kaur's ambitions soar. She tackles head-on the topic of female infanticide in her family's native India. She draws poetry out of the immigrant experience, of migrants desperate for a better life, the isolation of foreign accents ("what does it matter if my mouth carries two worlds") and the futility of borders that make us enemies. In "colonize," Kaur writes: "you split the world/ into pieces and/ called them countries/ declared ownership on/ what never belonged to you/ and left the rest with nothing." It is a devastating accusation from a woman whose family legacy is greatly shaped by the brutal reality of colonization. Kaur then turns to her mother, wishing she could give her back all the lost years she spent taking care of her family at the expense of her own identity. She wonders if there will be enough time to make it up to her, to show gratitude for the life her mother sacrificed for her children.
The chapter "rising" is light and musical, full of wonder at the gift of fresh love and a balm for damaged souls. Kaur cross-pollinates her poems in "Rising" with words of joy and excitement, and the uncertainty of moving forward in life. The beauty industry does not escape the simple honesty of this poet's artistic reach. In the final chapter, "Blooming," Kaur writes, "it is a trillion-dollar industry that would collapse/ if we believed we were beautiful enough already." Kaur brings humor to the page with her poem "unibrow," a dedication to all the women and girls with eyebrows so thick that, no matter how much they are plucked and pulled, always "find their way/ back to each other." She compares the unibrow to lovers destined for each other who, "even if they are separated/ they'll end up together."
At her rawest, Kaur peers into our hearts and distills complicated and intertwined emotions into a perfectly simple sentence, much the way a magician with a hat full of individual scarves waves his magic wand and pulls out one long string of colored handkerchiefs linked together. Kaur guides readers toward a better version of themselves. She takes hopes, fears and yearnings and brings forth words of such beauty and grace that readers are left stunned, shaking our heads and wondering, "How did she know I felt that way?" --Shahina Piyarali