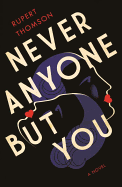 In Never Anyone but You, Rupert Thomson (The Insult; Katherine Carlyle) re-creates with intimate and emotional detail the lives--and love--of two extraordinary women who lived in the early half of the 20th century: Claude Cahun and Marcel Moore.
Claude and Marcel met as teenagers (then named Lucie and Suzanne, respectively). Despite the possible censure they faced at the time, the two fell in love and embarked on a decades-long relationship with one another. In a stranger-than-fiction twist, their clandestine relationship was further covered by the fact that the divorced father of one married the widowed mother of the other, allowing the two women to live together as stepsisters without raising suspicion.
While history has better remembered Claude--her self-portraits and writing, in particular, have preserved many of her ideas on femininity and gender norms that are as relevant (indeed, downright revolutionary) today as they were during her lifetime--Thomson brings the love between Claude and Marcel to life by writing from Marcel's perspective. This narrative decision serves two purposes: first, by writing in the first person, Thomson conveys an emotional depth to the relationship that would be lacking if told from without. And second, by maintaining Claude as the subject of another's perspective, the art she's left behind is given further context for those who may seek it out.
That being said, the experiences of these two women were so intertwined and interrelated that Never Anyone but You is not so much an accounting of their individual lives and actions, but rather an exploration of their shared life.
"Sometimes, though, just sometimes, Claude would become me and I would become her--while making love, for instance, or dancing--and it was unforced and seamless, it was comfortable, this reversing of our roles, this intermingling of our attributes and our desires. I had seen acquaintances of ours notice this capacity in us, and I had watched it arouse their jealousy... they realized that they didn't have anything we wanted, and they took our self-sufficiency as a kind of rejection, or even as an expression of contempt."
This intimacy between the two women is born in part from the secrecy of their relationship and their continued dependence on one another for love and support. More importantly, though, it is what gave both a place of inclusivity in a world that wanted to exclude them--because of their gender, their sexuality, their politics, or some combination thereof.
Thomson's novels have varied in subject, but his skill as a novelist is on full display in Never Anyone but You. Drawing on historical facts and what is known of Claude and Marcel's personal lives, he has built a richly imagined work of historical fiction that succeeds in capturing the essence of each distinct period of Claude and Marcel's life together: their teenage years in the provincial town of Nantes; the energy and passion of the Surrealist movement in 1920s Paris; the reclusive nature of the women's retreat in Jersey; the fear and apprehension that lay over Jersey during the German occupation of the Channel Islands. Each of these distinct periods serves to provide further context to the complex story of two individual women who defied expectations to live a life of their own creation.
This idea of self-determination and creation was central to Claude's art, and so it's perhaps not surprising that it features so prominently in Thomson's novel. But what Thomson succeeds in imagining, with layers of sentiment that make the story resonate across the decades, is the importance of that determination to the very identity of both women. It is the driving force behind Suzanne's decision to stay with Lucie; it is behind their decision to rename themselves upon arriving in Paris in the 1920s; it is what leads them to set up an exceptionally dangerous anti-Nazi propaganda project in Jersey during the German occupation of their home.
Perhaps most importantly, it is also central to their love for one another. Marcel recognizes the work Claude has put into making the "constantly shifting construct that was herself," and does everything in her power to preserve that construct, no matter the cost to herself or the forces working against her.
Steeped in historical detail, surprisingly timely statements on gender norms and mental health, and suspenseful moments of choice and deliberation, Never Anyone but You is a captivating and heartfelt tale of love and the many shapes it can take. --Kerry McHugh