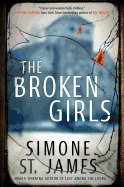 Simone St. James's The Broken Girls opens with a disquieting scene set in 1950. A teenager is apparently being chased by a ghostlike menace as she runs through the woods toward Idlewild Hall, a boarding school for girls. The prologue ends with the girl looking into the darkness and screaming.
Cut to November 2014. Fiona Sheridan, a reporter whose murdered sister's body was found on the grounds of the abandoned Idlewild 20 years earlier, investigates why a benefactor with no apparent ties to the school has bought it with intentions of reopening it. Fiona has spent her career writing puff pieces, purposefully avoiding comparisons to her father, the legendary journalist Malcolm Sheridan, but she can't stay away from a chance to look more deeply into her sister Deb's murder.
The case was solved two decades ago with the conviction of local golden boy Tim Christopher, who comes from a wealthy family and was dating Deb, but Fiona has a feeling there's much about the case she still doesn't know. This is confirmed when she discovers a witness statement that seems to give Tim an alibi on the day of the murder. Why wasn't that ever made public or used by the defense? Is it possible the police put the wrong man in prison? Fiona also stumbles upon another murder tied to Idlewild. Oh, and the school might be haunted. How is all of this tied to Deb's death and Idlewild's possible reopening?
To complicate matters further, Garrett Creel Jr., the cop who headed up the original investigation into Deb's murder, is the father of Fiona's lover, Jamie, himself a cop. Garrett may be officially retired, but remains determined to control the narrative of events, both past and present. Jamie's eager to have Fiona meet his parents, but Fiona is less interested in making polite conversation with the former chief of police than challenging him to get to the bottom of what really happened to her sister.
Fiona is the contemporary heroine, but in 1950, there are four protagonists: Katie, Roberta, CeCe and Sonia, all residents of Idlewild, each with chapters told from her point of view. They have disparate backgrounds but all fit neatly into the categories of students the school accepts. "Idlewild was the boarding school of last resort, where parents stashed their embarrassments, their failures, and their recalcitrant girls. Hidden in the backwoods of Vermont, it had only 120 students: illegitimate daughters, first wives' daughters, servants' daughters, immigrant girls, girls who misbehaved or couldn't learn."
Katie is the headstrong, beautiful one whose lead everyone follows; Roberta the athletic hockey player; CeCe the illegitimate child of a rich married man; and Sonia the French girl with a mysterious past who seems triggered by blood and violence.
The Broken Girls alternates among the different narrators and the past and present. The connecting tissues are Idlewild and its resident ghost, Mary Hand, who terrorizes people by showing them their worst fears. Legend has it that "Mary Hand died when she was locked out of the school on a winter night and lost her way." The personalization of the horror to each person she haunts takes Mary to a higher level of creepy than the average ghost. "Katie had thought she understood fear until that moment but when the voice had spoken, she'd understood fear that was older and bigger than she could imagine." Mary Hand, dressed entirely in black with a veil covering her face, "begs girls to come outside and follow her, but if you do it, you die."
Of all the girls' stories, Sonia's resonates the most. When Fiona tries to track down the former Idlewild residents to see if any is still alive, she finds an astonishing lack of records about the real historical events surrounding Sonia's tragic past. With her rendition, St. James makes the reader want to do further research on the place and people that time forgot.
Another noteworthy aspect of The Broken Girls is the bond among the girls and their resiliency. One might expect a group of teenage girls from different backgrounds sharing the same room to engage in catfights and backstabbing, but St. James creates deeper and more complex relationships for her characters. Katie, Roberta, CeCe and Sonia may not always understand or agree with one another, but each protects the others with affecting loyalty. And though they have rarely met Lady Luck, none wallows in self-pity, instead figuring how to make the best of their circumstances.
Likewise, Fiona's life has been struck by tragedy and grief, but she comes to learn the only way to make peace and move on is to confront her past head-on, not run away from it. She finds strength along the way from unexpected allies, other women who not only survived difficult times but have thrived by refusing to be broken. --Elyse Dinh-McCrillis