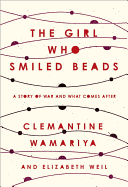 When Clemantine Wamariya was six years old, her world in Kigali, Rwanda, began to close in around her. It started with the disappearance of her beloved nanny, Mukamana. When she inquired why Mukamana left, her mother told her it was because of the conflict, which meant nothing to a young child. But losing the ability to play outside meant a lot, as did the loss of contact with friends.
Using words that sparkle in dramatic contrast to the landscape evolving around her, Clemantine says, "Some days the world felt green, some days it felt yellow, but never a happy yellow." A security guard stood sentry outside her home, her mother made sure their curtains were always closed, and no member of their family went to the public market. Soon utilities stopped working; humor and joviality vanished--replaced by constant praying--and it "thundered" a lot.
The constriction of Clemantine's realm was the onset of the Rwandan genocide. She and her sister, Claire, nine years her senior, left Kigali for their grandmother's home in the country three hours away. But life was no safer there, and they were forced to flee, "When it happened, we heard a knock on the door. My grandmother gestured for us to be silent--checkeka checkeka checkeka. Then she motioned for us to run, or really to belly-crawl, out past the beaming sunflowers through a sweet potato field.... Once we reached the tall trees we ran, for real, off the farm, out of the ordered rows, and deep into a thick banana grove, where we saw other people, most of them young, some of them bloody with wounds."
This was the beginning of Clemantine's extraordinary and heartbreaking six-year odyssey. She and her teenage sister would travel throughout seven African countries, living in refugee camps and battling to stay safe, to stay alive, all the while having no knowledge of the rest of their family's fate.
Clemantine's depiction of life in refugee camps is vivid and often terrifying. She explains her anxiety surrounding the bathrooms, "The biggest of my fears was falling into the disgusting pit latrine. One morning a child did. A man with a bucket had to fish him out," and the soul-destroying, constant presence of insects: "...there were always bugs in my feet, and in my clothes, and in my bed. I worked at pretending this was tolerable, that this did not make me feel repulsive, that this did not turn my world into a noxious yellow-green...." Although it's abundantly clear that refugee camps are abominations, Clemantine also finds beauty in some of her fellow refugees, like an elderly couple who tell her stories and teach her to forage and eat grasshoppers.
Despite her young age, Clemantine's sister, Claire, is smart, determined and resourceful. She finds ways to make money, uncovers opportunities to leave the refugee camps and keeps both of them alive. But like the calluses that form on their worn and weathered feet from all the walking, Clemantine hardens to the world around her. Readers can't help but feel the pain stiffening her heart. Clemantine says, "I did not feel lost, as 'lost' implies that there's a place where you will feel found and that, for me, did not exist. I was just a feather, molted and mangled, drifting through space."
As Clemantine narrates the six harrowing years she and Claire spent traveling throughout Africa, she alternates with chapters that jump forward to life in the United States. The sisters ultimately escape their nomadic nightmare for America. But that doesn't translate into instant happiness. It is simply, as Clemantine describes, "a different jungle." But it is in the U.S. where Clemantine and Claire begin their slow healing process. Clemantine goes to school for the first time, the sisters appear on Oprah Winfrey's show and Clemantine tries to shed her refugee skills--"I wanted to be who I needed to be and get what there was to get"--in order to find her true self.
The Girl Who Smiled Beads is a raw, honest portrayal of the human cost of political conflict and racism. Displacement is a steep price to pay. Young or old, black or white, male or female, everyone needs their own identity, and home is a vital part of that identity. When it is stripped away, the wound is gaping, sometimes as fatal as a bullet or a knife. Clemantine traveled around Africa and across the Atlantic with such a wound, a girl without her home. She exquisitely journals that sojourn with lyrical language, powerful anecdotes and meaningful emotion. Through this young refugee, readers will experience a person--not a crisis or a global problem, but a beautiful girl capable of changing the world. --Jen Forbus