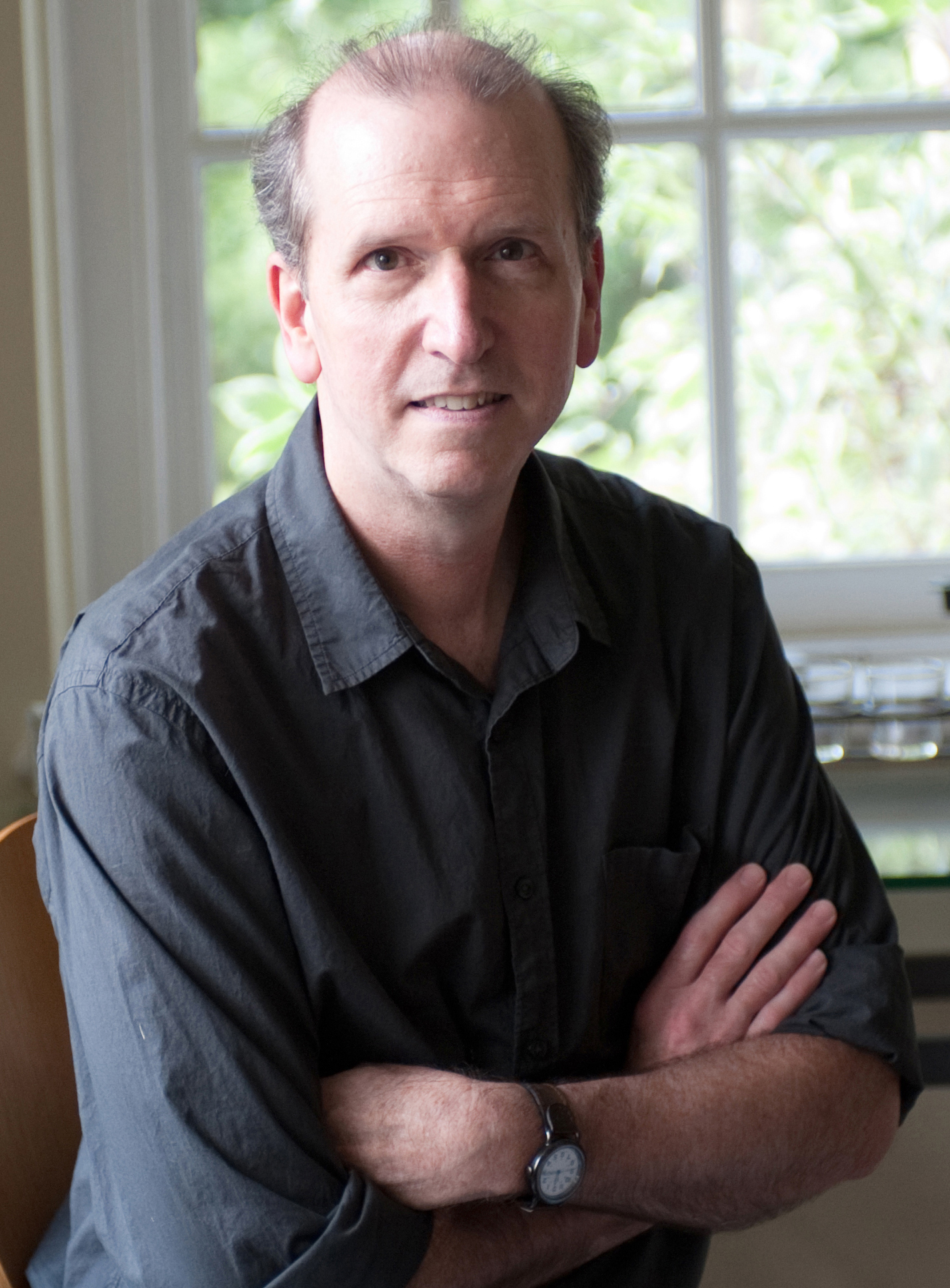 David Wiesner is internationally renowned for his visual storytelling and has won the Caldecott Medal three times--for Tuesday, The Three Pigs and Flotsam--the second person in history to do so. He is also the recipient of three Caldecott Honors, for Free Fall, Sector 7 and Mr. Wuffles. I Got It! comes out April 3 from Clarion/Houghton Mifflin Harcourt. Wiesner lives near Philadelphia with his family.
Where did you get the idea for I Got It! and what compelled you to pursue it?
The idea for I Got It! actually began in my childhood. In the fourth or fifth grade, my class was shown the 1962 French film based on the Ambrose Bierce short story, An Occurrence at Owl Creek Bridge.
The story, told without dialogue, is about a southern Civil War prisoner who is to be hanged by Union soldiers. As the plank holding him over the creek is removed and he falls, the rope breaks. He goes into the water, frees himself and escapes.
The man journeys through the forest until he finally reaches his home. As his wife reaches out to him, touching his neck, the man stiffens and his head snaps back. The scene then cuts to his body hanging from the bridge.
Yes, this was shown to my elementary class. Different times!
I was taken with the idea of a lengthy mental fantasy happening in a very short time--seconds, in fact. This is where I Got It! comes in. For a long time, I had wanted to see if I could use the idea of a kid's mind playing out a series of ever-expanding scenarios relating to the action in which his physical self is involved. It was key that whatever the kid was doing would take only a couple of seconds but would feel like an eternity.
My first thought for the action of the story was the catching of a ball--specifically, a baseball. I remembered baseball games I played in as a kid. I was generally in the outfield because I was younger than most of the other kids and the outfield is where you put the... um... less seasoned players. I had a definite sense of dread that the ball would actually be hit to me. And when a high fly ball finally came toward me, it seemed to take forever to come down. Of course, it was mere seconds, but that was enough time for my brain to conjure up any number of doomsday scenarios. At the end of those few seconds I would either catch the ball--or not.
Are there themes that you thread through all of your work? Or any that you've been thinking about and want to further investigate in book form?
There is a whole set of thematic ideas and images that I return to all the time. I first encountered many of these as a child--An Occurrence at Owl Creek Bridge and surrealism being two examples. Other things I was fascinated by were alternate realities, changes in scale, worlds-within-worlds, and fish. As I grew up, each time I encountered these ideas in books, film, TV, or art, I would connect them to my childhood first impressions. Those connections strengthened with every new exposure.
When I began writing, it was these ideas I turned to. I had first discovered wordless storytelling in comic books as a kid. That concept became a lens I saw my stories through.
There are a lot of possibilities left for me to explore!
What do surreal elements allow you to do as a storyteller that you can't do with strictly realistic elements?
I was profoundly affected by encountering surrealist art as a kid. I would ride my bike to my local library--Bound Brook [N.J.] Memorial Library--and look at the Time-Life books on the history of art. When I saw work by Dalí, Magritte, Ernst, de Chirico, I was amazed. My own art took a radical turn toward the surreal.
A number of the surrealists painted their dream-like visions in an academically representational way, often set within the ordinary world. Seeing that strangeness rendered in such precise clarity, existing in a world I recognized, was what really captivated me.
My own stories mostly take place in everyday, ordinary settings. It's exciting to think that maybe right around the corner or just out of sight, something strange and amazing is happening
Do you feel as if you have deliberately shaped your career path? How have the awards impacted your life and your work?
I have, in that I focus on ideas that are personal and fascinating to me.
I have been able to keep that focus because of a group of people who are proud to publish my books and who do all they can to help me make them the best they can be. All the books I have written have been made with the same people--the late Dorothy Briley and then Dinah Stevenson as my editors; Carol Goldenberg as my art director; and, until her recent retirement, Donna McCarthy overseeing production. Finding people who want to publish what you create is an author's dream. I feel fortunate to have met my dream team very early in my career.
I always assumed that my sometimes strange, mainly wordless books would have a limited audience. The Caldecott Medals changed my visibility in a dramatic way, and for that I'm thankful.
Where are you looking to take your work? Do you have ideas for your next book?
I am always looking for the best way to tell my story. The format depends on the needs of the story. Mostly that means a picture book, but if the story wants to go somewhere else, I'll follow it.
Fish Girl was too big for a picture book, so I was delighted to work in the graphic novel format. Spot was an idea I had been trying to do as a picture book, but couldn't get quite right. The digital format allowed me to explore the idea in an exciting new way.
Currently, I am working on a book with characters from one of the worlds in my app, Spot. Six worlds of different settings and different characters lead to many stories waiting to be explored. --Siân Gaetano