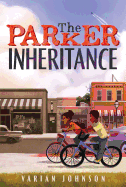 When 12-year-old Candice Miller moves to her late grandmother's house in Lambert, S.C., the only mystery she has to solve is how she'll survive a long summer away from her friends and her father back in Atlanta. Then, while digging around in the attic, she finds a note written in her grandmother's familiar handwriting: "Find the path. Solve the puzzle." The discovery, which seems intended for Candice, immerses her in a mystery dating back to the 1950s--a mystery that might end with a multimillion-dollar reward.
Ten years earlier, Candice's grandmother Abigail Caldwell, "the first woman, and the first African-American, to serve as city manager for Lambert," tried to solve the same mystery. But Abigail's determination to unravel the conundrum that Candice now faces caused her to take extreme measures (such as using a backhoe to dig up a public tennis court). Because of these actions, she became "the laughingstock of the city." Now, Candice is intent upon using the same clues to solve the mystery and clear her grandmother's name. To do so, she will have to stay quiet about her plans, and share her quest only with her neighbor and new quasi-friend, 11-year-old Brandon.
The mystery begins with Enoch "Big Dub" Washington and his daughter Siobhan, who lived in Lambert in 1956 and 1957, after segregation was declared illegal, but before integration was enforced. With direct nods to The Westing Game, the book's contemporary puzzle is set against the backdrop of the ugly racism and violence of the Jim Crow South, and must be solved by Candice and Brandon's research into long-buried incidents in Lambert's history. The reader meets the Washingtons early in the novel and learns more about their lives every few chapters. Candice and Brandon, however, uncover just a few details at a time about the Washingtons. Additionally, Johnson presents the reader with information from several different points of view, including Siobhan's independent voice. In this way, readers often learn new information before Candice does, and are given enough background to have a fair shot at solving the puzzle themselves, even though the clues present a real challenge. Teachers and librarians will be particularly gratified to see Candice and Brandon using robust information literacy strategies to solve the puzzle ("He ran another search, this time with Luling and baseball").
Throughout the complex story, author Varian Johnson respects the intelligence of his middle-grade readers by writing truthfully and accessibly about the cruelty and violence Siobhan and her family faced. In particular, he takes great care with the details he includes (and skips) in order to keep the content appropriate for his audience. For example, after a dispute at a tennis game, a white doll that's been painted black is found on Siobhan's father's car: "The baby was naked, with horrible words scratched into its plastic skin. A noose hung around the baby's neck." "Horrible words" are mentioned at several points in Johnson's story, and readers don't need to know the actual slurs to understand that they are offensive and scary. A few brief scenes of violence are frightening, but they are, sadly, necessary to the story, and written with great poise.
Johnson also brings contemporary concerns to the page, in incidents that have Candice and Brandon confronting bullying and prejudice against gay men. And, where appropriate, as with all timeless middle grade fiction, there are ample grace notes, as when Brandon says to Candice, "'We're partners, remember? I've always got your back.'" With moments like this, Johnson builds strong emotional resonance worthy of the subject matter without excluding younger readers. Additionally, he seems aware that The Parker Inheritance will be the first place many young readers learn about concepts like "passing" or historical events like the Brown v. Board of Education case, and he seamlessly sews these facts into the fabric of the contemporary story by having Candice or Brandon learn along with the reader. His thoughtful writing is complemented by back matter that discusses the real-world events that inspired many of the characters and parts of his story. As with the fictional story preceding, Johnson's writing is skillful and direct, answering questions like "Was life really so bad for black people that they would want to pretend to be white?" He includes an honest discussion of the thousands of black Americans who were lynched between 1877 and 1950 but also allows his own hope to shine through: "We have a long way to go, but I believe we'll get there."
At every opportunity, The Parker Inheritance encourages young readers to be honest and broadminded; Johnson offers them a sturdy moral compass and empowers them to use it. We need to acknowledge when people and their actions are wrong, he seems to say, even when it's uncomfortable to do so. And Candice and Brandon are characters to cheer for, with their fierce determination and dedication to getting to the bottom of this mystery. Their curiosity and open-mindedness drive their quest and endear them to the reader. What Candice and Brandon ultimately discover is that, whether or not millions are on the line, no mystery can be solved by covering over mistakes and pretending they never happened. The Parker Inheritance is a clever puzzle wrapped in an urgent and compassionate novel that will capture readers from the first chapter. --Stephanie Anderson